Members Talk Fire Safety and Donate to Lions Camp Tatiye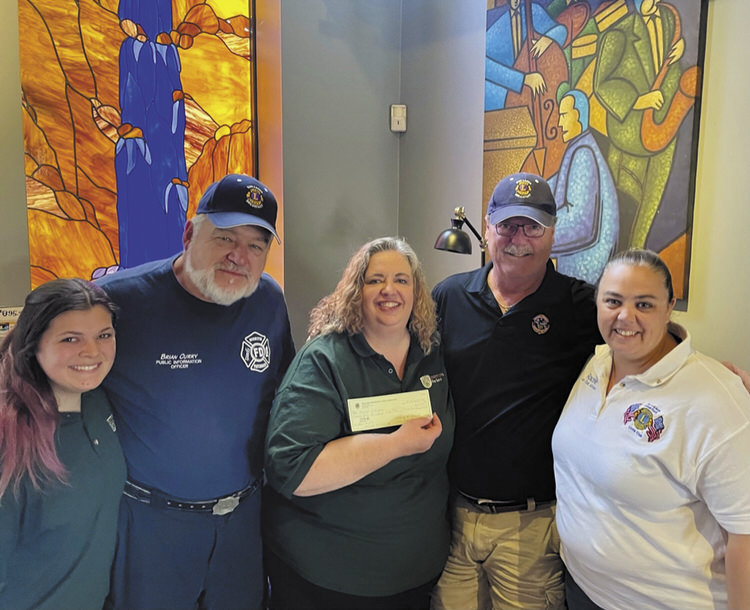 Sun Lakes Breakfast Lions Club (SLBLC) President Gary Aleshire, who is a firematic consultant and retired Washington State Assistant Chief, and Vice President Brian Curry, a public information officer for the Arizona Fire & Medical Authority, as well as having over 35 years in the fire service in New York, met with Director Pam Vogt Swanson and her counselor staff of Arizona Lions Camp Tatiyee to discuss fire safety, fire prevention, and evacuation procedures among other fire- and EMS-related issues. The Arizona Lions Camp Tatiyee provides summer sleepover camp for children with special needs. In addition, the SLBLC presented Ms. Swanson with our club's donation. SLBLC Leo Club Advisor Rachel Chiaramonte also attended.
Breakfast Lions Doings
The Sun Lakes Breakfast Lions Club had a busy April meeting, inducting new member Karl Thomas. In addition, Club Secretary Linda Dreyer was awarded a Marvin Jones Fellow by Vice President David Coffman for her tireless work.
Would you like to join the Sun Lakes Breakfast Lions? We meet on the third Tuesday of the month at 10 a.m. Give us a call at 480-242-4356.
Breakfast Lions Club Awards Scholarship
The Sun Lakes Breakfast Lions Club (SLBLC) awarded their 2023 scholarship to recipient Logan Le of Chandler High School, who is going forward with higher learning in automotive mechanics. SLBLC Vice President Brian Curry commented, "Logan was personable, and it's so obvious he's motivated to succeed."
Sun Lakes Breakfast Lions Donate to Neighbors Who Care
The wonderful Sun Lakes-based Neighbors Who Care are near and dear to the Sun Lakes Breakfast Lions Club (SLBLC), and their director Sheryl Keeme is doing a fantastic job identifying and assisting those in our community in need. Therefore, whenever possible, the SLBLC is more than happy to help them in their mission.
Sun Lakes Lions Club Award
Sun Lakes Breakfast Lions Donate to the Assistance League of the East Valley