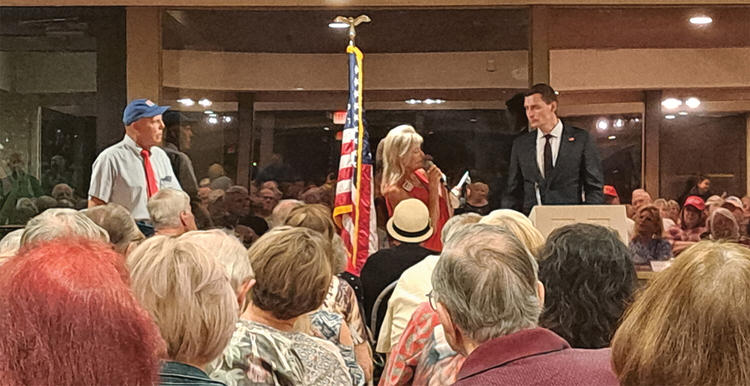 Karen Lambourne
If you wanted valid, timely facts on current election candidates, you got them at the Sun Lakes Republican Club meeting on Oct. 12, where Blake Masters called on his grassroots Sun Lakes foot soldiers to spread the truth, as he supports lifelong Social Security, even suggesting young kids begin their Social Security savings at an early age to secure their retirement wellbeing. Masters strongly advocates for continued Social Security. Masters is a strong pro-life father and in favor of limited (up to 15 weeks), necessary abortion.
Masters spoke of his recent visit to the Yuma, Ariz., border where he states 1,000 illegal immigrants a day walk from Mexican drug cartel buses across the border and into U.S. destinations. He says they bring fentanyl (actually, enhanced, lethal, deadly poison pills) to our school grounds, killing our beautiful young people.
Mark Finchem, running for Secretary of State, also gave a powerful, inspiring speech at this meeting, touting his 21-year law enforcement career as an officer. Finchem had the 250 attendees repeat out loud his only slogan: "Follow the Law."
As part of Blake Masters' grassroots foot soldiers, Sun Lakers' friendly, neighborly, door-to-door, factual personal testimonies can, when shared, help folks in our community understand the truth and the critical importance of casting their votes.