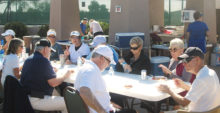 Jerry Vance
The Sun Lakes Tennis Club members traveled to Springfield on Saturday, Jan. 25, to play friendly matches against the Springfield Tennis Club. Starting at 8 a.m. and finishing at 3 p.m., a lot of tennis was played, and great food was consumed. Matches were competitive, with Springfield coming out slightly ahead.
Tournaments were played with SunBird on Feb. 8 and  Cottonwood on Feb. 22.
We will have in-house tournaments with the Hot Dog on March 7 and the Remembrance tournament on April 4. We have our tennis dinner and meeting on the second Wednesday of the month. We play at the courts on Monday, Wednesday, and Thursday, so come out and play tennis with Sun Lakes.