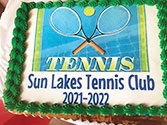 The Sun Lakes Tennis Club is back and happy to be in the sun. We did a Welcome Back tournament in November and a Holiday tournament on Dec. 11. It was great fun to see everyone back without COVID-19. President Ed Campion hosted a great party at his home in November.
We will start playing tournaments in January, hosting Springfield on Jan. 22, followed by hosting SunBird on Feb. 5. Then we go to Cottonwood on Feb. 19.
We are playing every Monday and Wednesday at the tennis courts at Sun Lakes. Sign up and get scheduled. If you are not a member and want to play with the Sun Lakes Tennis Club, information to sign up to join is at the tennis courts.