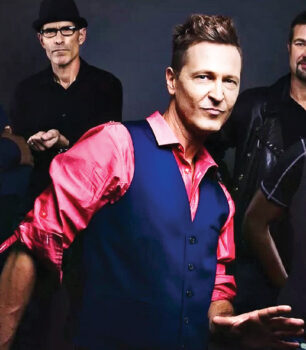 Carolyn Holmes-Leneway, Fun Lakers Social Club
Thaddeus Rose has a long-standing love affair with Sun Lakes. Wherever he plays, he packs the room. Whenever he plays, he creates sets to match the musical interests of his audience. Thaddeus played his first solo gig in Arizona about 16 years ago at Lone Butte Casino. This was when live music was played in a dark corner off the slot machine floor. A Sun Laker heard him and invited him to play at a Sun Lakes wedding. One gig turned into another, and the work started pouring in and never stopped—until COVID-19 hit! "I love playing here," Thaddeus said, "… and Sun Lakes' folks loved me back! Many have become my friends, and I am so grateful to them."
What makes Thaddeus so popular in our community? He is a consummate entertainer at heart. Even though he sets the volume at a comfortable level, his performances are always at a high-energy level. He keeps the music flowing, not wasting time talking. His active performances at recent Fun Lakers' "Bubble Concerts" energized the crowd so much they could not sit still. He can belt out a song like Louis Armstrong, sing in falsetto, and does musical impressions of Frank, Willie, or others if he chooses.
Born in Chicago and raised in Minneapolis, Thaddeus had a broad variety of experiences that made him the musical artist he is today. During his teenage years, he joined Showtime USA, where he fell in love with acting, but also gained skills for set building and theatre lighting. In 1986, his band Westside was featured on the hit TV show Star Search. His skills as a recording engineer grew, with mentors such as Yanni, a Greek composer and musician, who taught him to make composite vocal tracks. David Barry, currently a guitar player on The Voice, worked with Thaddeus with the Westside band and in Star Search. Others taught him persistence, to never give up, to have fun and smile, and most importantly, to connect with and listen to his audience.
Besides parenting his 15-year-old son Jude, Thaddeus' days are filled with producing new musical tracks in his front room, turned production studio. He is once again writing original music and creating new musical sets, like a Tribute to Sinatra and an Elton John show. He is ultimately committed to play the music his audiences request. The "dance rock" genre of music that Thaddeus loves is what Fun Lakers love—making him, arguably, one of the most popular performers to play for the Fun Lakers and the larger Sun Lakes community. Thaddeus' gratefulness and love for the people of Sun Lakes is expressed in his parting comment, "Sun Lakes is like heaven on earth!" You can contact him via his website ThaddeusRose.com. He will be performing at various venues and at more Fun Lakers Social Club (funlakers.org) "Bubble Concerts" in 2021.
From Bob Bybee, publicist: "We will be having Thaddeus concerts next year, January through April (Jan. 14, Feb. 11, March 11, and April 15, 2021)." As long as we are limited to 50 people, the price will need to go up a bit to cover costs—recommending members $18 and non-members $22. Marilyn and Carolyn did such a great job with reservations this year, hopefully, they will continue for the next four events.