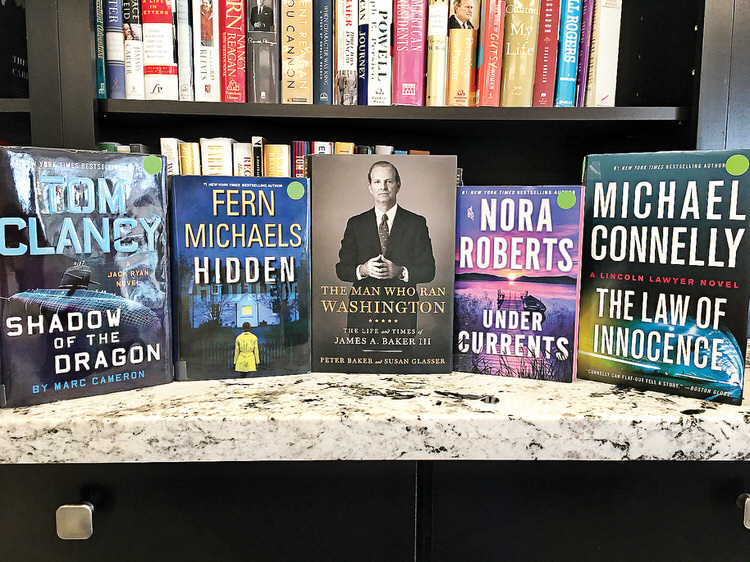 Bette Hargrave
Dear friends and patrons,
October is here, and I'm looking forward to planting my winter flowers and gathering with friends for the Sock Hop at the San Tan Ballroom on Oct. 17. Contact John Yu at 480-699-7334 for information.
For your convenience, the Sun Lakes Country Club, Phase 1 has extra copies of the Splash to the left of the clubhouse front desk.
Pat Weitzel, the assistant head librarian for our Phase 1 library in Sun Lakes, purchased these new titles in September:
1. Come Fly the World by Julia Cooke. This is the story of the Pan Am women, focusing mostly on the mid-1960s. It has glamour, danger, liberation, and attracted women who were required to have a college education, speak two languages, and possess the political savvy of a foreign service officer! I can't wait to add this to my To Read list!
2. A Slow Fire Burning by Paula Hawkins, author of The Girl on the Train. A Slow Fire Burning is reviewed as another slow burn, well-constructed, with writing superb, listed as a psychological thriller and has atmospheric suspense.
3. Hidden by Fern Michaels, a favorite author in our library! A brother and sister team uncover dangerous information hidden in an antique. They have no one to turn to but themselves. This is the number 1 story in a suspenseful new series. Happy reading!
4. Under Currents by Nora Roberts, another experienced author with many novels under her belt and more than one pseudonym. She is a New York Times Best Selling Author. Under Currents is the story of the power of family to hurt … and to heal. Within the walls of a tasteful, perfectly-kept house in North Carolina's Blue Ridge Mountains, young Zane Bigelow feels like a prisoner of war. Another book for my to read list!
Listed as "Best Book of the Year" in 2020 by the N Y Times, Washington Post, and Fortune magazine is The Man Who Ran Washington: The Life and Times of James A. Baker III by Peter Baker and Susan Glasser. I'm in the middle of this now and will say, although I'm not usually a biography enthusiast, I'm finding this one very interesting reading. A review by John Dickerson, author of The Hardest Job in the World: The American Presidency, reads:
"To capture the sweep and relevance of one of the most influential figures in American life requires two of the great reporters and observers of our time. Peter Baker and Susan Glasser have written a grand, precise, and engaging American tale that gallops from Houston Country Club to the convention floor, to the Oval Office and all over the globe, capturing James Baker's ambition, influence, and style as well as telling the story of power and America at the end of an age."
This is really a wonderful biography and history of not-too-distant times!
I'm also reading (of all things) Grimm's Complete Fairy Tales by the Brothers Grimm; looking for unusual stories for my great-grands!
Please don't forget we have some of the classics and poetry in our library. In a small corner section, just past the locked new purchases, you'll find wonderful poetry, fairy tales, and authors such as Dickens, Ernest Hemingway, and many more!
Thank you, and happy reading!