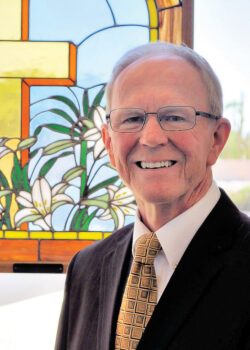 Dr. Marc Drake, Senior Pastor, First Baptist Church Sun Lakes
As I write these words in the middle of June, we are under an excessive heat warning, with the temperature possibly reaching 118 degrees before the week is over. And it's not even the first day of summer yet! By the time you read this, August will be upon us, and the hot weather will continue. Just how hot is it? Consider the following bit of hyperbole:
You eat hot chilies to cool your mouth off.
You can make instant sun tea.
You don't associate bridges (or rivers) with water.
The temperature drops below 100 degrees, and you feel a bit chilly.
You discover that it takes only two fingers to drive your car.
You notice the best parking place is determined by shade instead of distance (if you can find a tree big enough).
Hot water now comes out of both taps.
It's the middle of the day, kids are on summer vacation, and not one person is out on the streets.
You break into a sweat the instant you step outside. At 7:30 a.m.
You realize that asphalt has a liquid state.
Someone said that our area does have four seasons: early summer, mid-summer, late summer, and next summer. But on those stifling summer days, just remember the words of Vance Havner:
"Whether the weather be cold
Whether the weather be hot
Whatever the weather
We'll weather the weather
Whether we like it or not!"
Yes, by God's grace we will weather the weather. And I am very glad that he is in charge of the weather and not us. God knows what we need every day … all day. What a blessing to rest in Him! The great hymn-writer Isaac Watts understood this truth and wrote the following memorable words as a prayer for his hymn:
"There's not a plant or flower below but makes Thy glories known;
And clouds arise and tempests blow by order from Thy throne.
While all that borrows life from Thee is ever in Thy care,
And everywhere that man can be, Thou, God, art present there."
Yes, God's sovereign control over all things brings great perspective and comfort to his children.
Keep smiling. God is in charge. And October is coming.