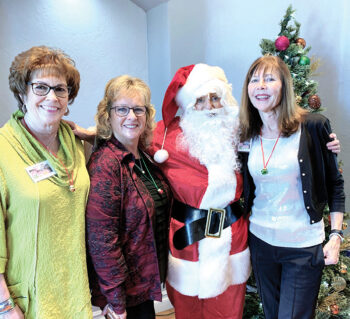 Starla Kramer
The members are looking forward to their annual Holiday Banquet "Brunch with Santa" in the Oakwood Ballroom on Dec. 8. There will be six or seven members seated at a table for ten for social distancing. Members will enjoy a gourmet meal, election of 2021 officers, and games.
The members enjoyed two fun field trips. The October field trip was to the beautiful Berridge Nursery where the owner, Christina, greeted everyone and talked about her family's nursery. This was followed by shopping and touring the annual Seasons greenhouse display that they have been preparing since June, with amazing Thanksgiving and Christmas decor filling their large greenhouse.
On Nov. 11, members took a tour of Cosanti in Paradise Valley. It's a historic site known for its terraced landscaping, earth-formed concrete, and sculptural wind bells. Members enjoyed a one-hour tour of the metal-casting foundry and the unique grounds before heading off to lunch.
The Sun Lakes Garden Club meets all year on the third Tuesday of the month. The December party is for members only, and it was moved up to Dec. 8.
Members are welcome from any city and any level of gardening experience. Check out our activity newsletters on the club website at www.SunLakesGardenClub.org.
Club memberships are only $20 per year, and a spouse or second member in the household is only $10 per year. Meetings are at the Chapel Center (next door to the Sun Lakes All Faiths Community Church, and across the street from the Sun Lakes Country Club) at 9230 E. Sun Lakes Blvd. N.