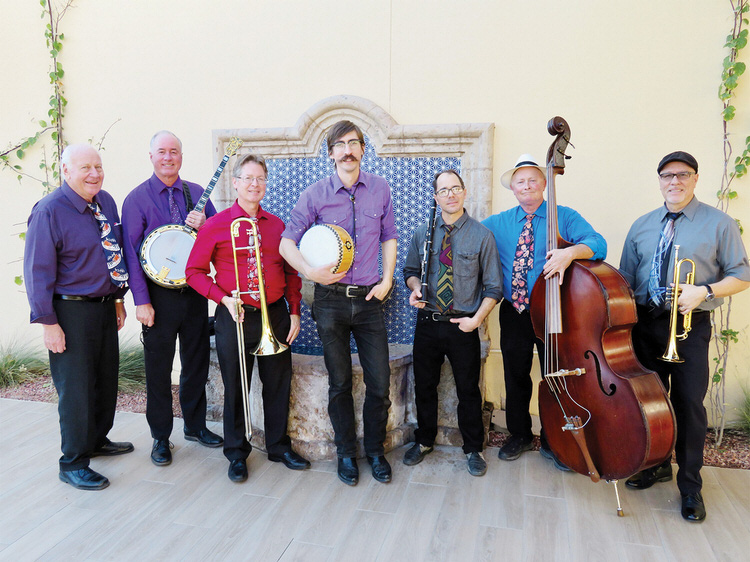 Helen Daley
Imagine (which, by the way, is part of the theme for special sets at the Arizona Classic Jazz Festival, Nov. 3-6) you are an accomplished, professional guitarist, banjoist, ukulelist, and the leader of the popular Arizona Wildcat Jazz Band and you wanted to bring more excitement to your music. What might you do? Wildcat leader Rob Wright contacted luthier John Kinnard and ordered a 22-fret baritone ukulele that can be tuned like a banjo.
Why would Rob do such a thing? Because now he can play banjo songs with a softer tone. It gives those old, trad jazz tunes a newer sound. He is also making a CD using his new instrument, which is the only one like it in the world. Rob says this is his contribution to posterity.
You will have an opportunity to hear this "new" music if you attend the performance by the Wildcat Jazz Band on Sept. 18 for the Arizona Classic Jazz Society. The band is rounded out by Rob Boone on trombone, Evan Dain on bass and vocals, Rick Peron on trumpet, Marco Rosano on reeds, Arthur Vint on drums, and Ray Templin on piano. Ray took a short hiatus from the band but has a new pacemaker and is raring to go.
The fun takes place in the San Tan Ballroom at the Crowne Plaza Phoenix – Chandler Golf Resort, at One San Marcos Place, in downtown Chandler, from 1 to 4 p.m. The cost is $15 for Arizona Classic Jazz Society members; $20 non-members (become a new member on the 18th and get in free; yearly membership $35 couple, single $25). Credit cards are not accepted at monthly events, so please bring cash or your checkbook. The public is welcome. (Bring an extra $10 to take Rob's new CD home with you.) There will be two dance floors and seating with spacing to meet everybody's wishes, with the choice of table or theater seating. For more information, go to www.azclassicjazz.org or call 480-620-3941.
The Wildcats will play seven sets at the November Festival, and their educational set for the Imagine the '20s roaring again—the jazz age of the 1920s duplicated in the 2020s series will be "The '20s Roar on Broadway."