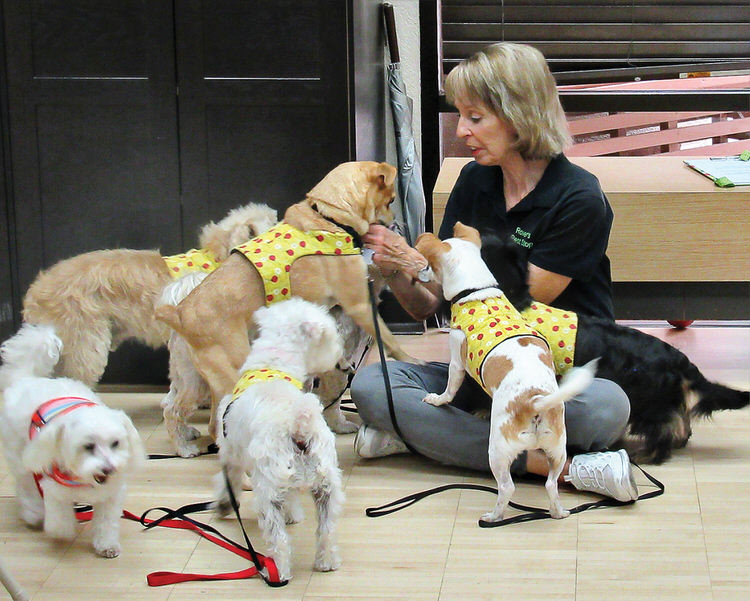 D. Williams
Rover's Rest Stop Kids thank you from the bottom of their hearts for all you do to help them on their journey to a new, loving forever home. They admit that the road is sometimes bumpy, but with your lending a helping hand, they know they are safe.
Rescues have been struggling through the trials and tribulations of our world, and a few had to close their doors, while others have persevered right on through it. Rover's Rest Stop is one of those! We are doing whatever it takes for these Kids.
Rover's Kids are proud to be a part of the Sun Lakes family and are looking forward to Linda's Cottonwood Fun Walk in November. They would love for you to stop by our booth and take one of them on a stroll around the lakes. They are working hard on ideas to one-up the last Women's Coffee fashion show—they were a better version of the Victoria Secret Angels! They had so much fun! And we know Judy Wear will have some great outfits and supermodels!
On the second Saturday of every month, we have our Meet & Greet in the Cottonwood Dance Room (A-6) from 9 a.m. to noon. We are so excited to see you come by and visit with the Kids. Even if you cannot adopt, you can have some fun! You might be surprised who you see there.
Rover's Treasured Kids have a special person who is rooting for them and has stepped up to the plate and offered to assist with the adoption fee of a Treasured Kid. These Kids are so amazing—happy, healthy, well-trained, smart, versatile, and fun-loving.
Bet you thought the Kids were going to ask for donations for food at Sunflower Pet Supply. Shop through Smile on Amazon to fill our Wish List or see our Wish List on RoversRestStop.com! Well, we need something more valuable—you. Some of our ambassadors have been with us for more than 10 years, and some have moved or are not able to help us any longer. Come by our Meet & Greet and see what goes on and talk with the ambassadors for the nitty gritty. The Kids will give you an earful, too!
How you can help:
If you cannot adopt—foster
If you cannot foster—sponsor
If you cannot sponsor—volunteer
If you cannot volunteer—donate
If you cannot donate—educate, network,
and cross-post
Everyone can do something,
large or small
To help save a life.
One last favor—please help us continue our great work by sharing on social media and joining us: We educate on our Facebook page, we take owner turn-in Kids, we adopt great Kids, we do boarding, and we are available to assist you. Just call 480-600-2828 for more information. See you Sept. 11!