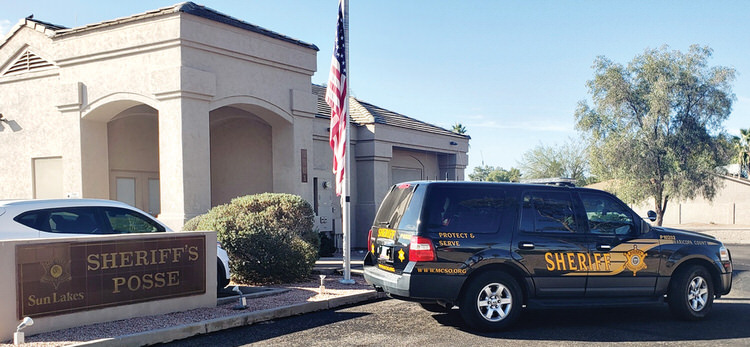 Craig Lloyd, Commander, Sun Lakes Sheriff's Posse
During the last 12 months, the Sun Lakes Posse volunteers have been very busy serving our community. The law enforcement vetted, uniformed Sheriff's Posse members have logged 4148 hours of patrol time in marked MCSO patrol vehicles throughout all the Sun Lakes communities, answering law enforcement calls for service and having a visible presence to deter crime in our community. The MCSO Sheriff's Posse is the only volunteer law enforcement organization authorized to patrol and support the Maricopa County Sheriff's office in the Sun Lakes area, and patrols both day and night shifts.
The Sun Lakes Sheriff's Posse members have also responded to multiple call-outs for missing resident searches in the Sun Lakes community this year, as well.
Our amazing medical equipment volunteers have logged just over 2000 hours during the past 12 months, providing medical equipment free of charge for use to the residents of our community.
Over the past year and a half, your Sun Lakes Posse facility has become a vital part of the Red Cross blood drive locations network to assist in this critical time in our country. We have collected over 145 units of desperately needed blood for our local hospitals through the many Red Cross drives.
Your Sun Lakes Posse continues to hold semi-annual Drug Take Back events, working alongside MCSO and the DEA, as well as co-sponsoring semi-annual sensitive document shred events in our community.
This entire group of volunteers continues to be an example of what community means in Sun Lakes since 1987, and has not missed a day during this pandemic.
Thank you for your support.