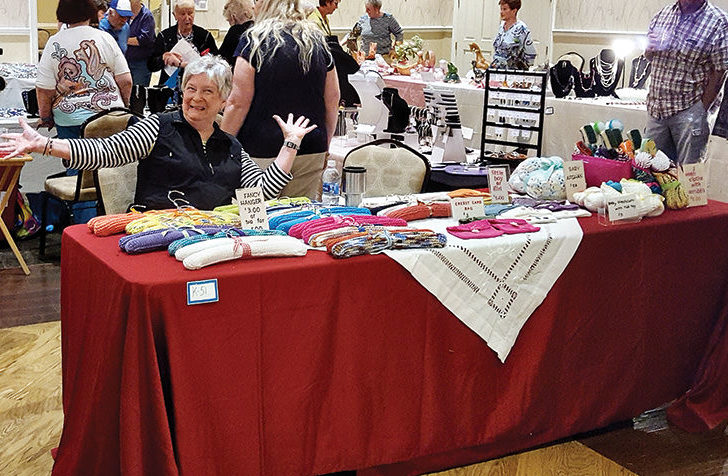 Diana Ellis
Those crafty Sun Lakers are at it again. The Sun Lakes Arts and Crafts Association annual Spring Show will be held on Saturday, March 21, with over 60 vendors showcasing their unique handmade crafts and artwork. The show will take place at the Oakwood Country Club (24218 S. Oakwood Blvd.) from 9 a.m. until 2 p.m. Admission is free and open to the public. Craft shows are a great place to find unique gifts while at the same time support local artists and purchase American-make items.
The Holiday Show (formally known as the Fall Show) will be held at Sun Lakes Phase 1 on Saturday, Nov. 28, 2020. Sign-up for the show will be at the Oct. 12, 2020, meeting. Members must personally handcraft all items sold at the craft shows. Application forms for the shows are available on our website (slaca.net) as a pdf file.
Club News:
Joyce Johnson, Holiday Show Chairperson, and Carol Silberstein, Spring Show Chair, have both announced that 2020 will be their last year chairing shows. Diane Enders will assume the role of Holiday Show Chair for 2021. The Association thanks both Joyce and Carol for all their hard work making the Holiday and Spring shows so successful over the past few years.
Lenora Pasch will be finishing her term as president at the end of this year. Marg Gjerstad has agreed to fill the position of club president starting in January of 2021 for the remainder of the two-year term.  Thanks to Lenora for her service as club president and for stepping up to assume the role. Kathy Wilson finished her term as secretary, and Nita Pangan is the new club secretary. Nickie Wegner will continue as club treasurer. Thanks to Kathy Wilson for her excellent service as club secretary for the past five years.
Visit the Association's website at slaca.net for more club information including show and meeting dates.