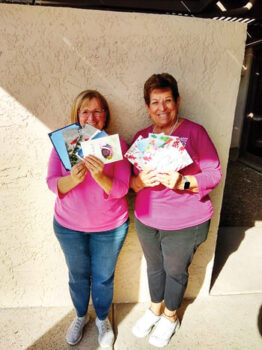 Sandra Bocynesky
December was a busy month for Chordaires, as they were preparing for their annual Christmas concert. But amid that activity, members made time to give back to our community and society as well.
Non-perishable food items were collected at one of their Thursday rehearsal times for St. Vincent de Paul's food bank. There still is so much need out there, and since one of their members volunteers at St. Vincent de Paul's, they felt this to be a perfect marriage for our greater Phoenix community.
Also in December, members wrote Christmas cards with notes of thanks and support for our active military troops and also donated money toward the cost of mailing the cards. This was in support of the work done by United Soldiers and Sailors of America (USASOA). They were founded in 2013, and USASOA is an all-volunteer, IRS 501(c)(3) nonprofit military and veteran service organization staffed with veterans, family members of veterans, and caring civilians. They have an annual Christmas card drive, which Chordaires supported for active military personnel. Chordaires cards, notes, and donations were added to the thousands from across America and shipped to our military around the world.
Finally, several hundred folks attended Chordaires' 4th Annual Christmas Concert, which had no admission fee, so that anyone can "afford" to be there and hear and enjoy the sounds of the season.
Chordaires Show Chorus of Sun Lakes, which is also a 501(c)(3) organization, is comprised on women who not only can sing, but who care about each other and the community in which we live. Want to know more? For more information about Chordaires, please email Rita at [email protected].