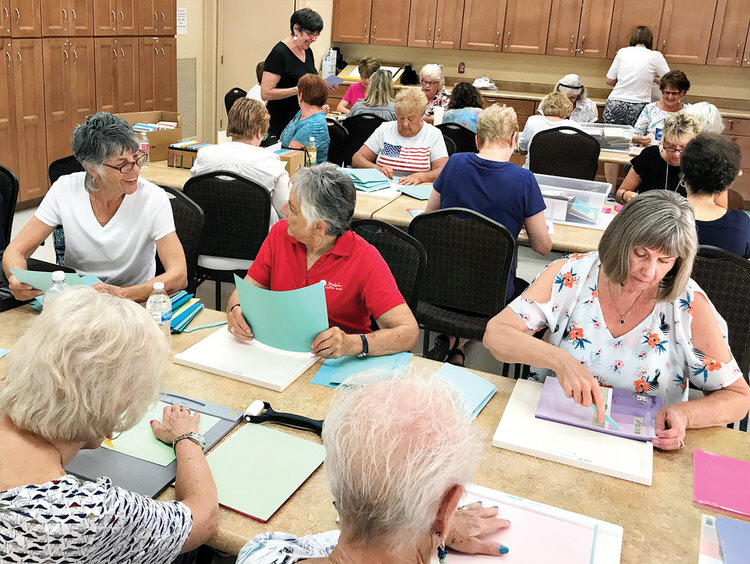 Bobbie Reed
Crystal Cards is resuming in-person workshops in 2022. These popular card-making sessions were halted in early 2020 because of the pandemic. Although our many dedicated volunteers continued making cards at home, they looked forward to the day they could join others and work together.
Our next card-making workshop will be Wednesday, Feb. 23, from 1 to 3 p.m. in the Ceramics Room (A-8) in Cottonwood. Additional sessions are planned for the fourth Wednesday of each month. We will adhere to safety guidelines, like social distancing. Masks are optional for those who are fully vaccinated, but we ask that anyone who is not fully vaccinated to wear a mask. And, of course, anyone experiencing symptoms—even what seems like just a common cold—should not join the group.
Upcoming sales of Crystal Cards are scheduled:
* Feb. 2 in the Cottonwood San Tan Ballroom from 10:30 a.m. to noon, as part of the Sun Lakes Women's Coffee
* Feb. 9 in the Bradford Room, Oakwood clubhouse, from 9 a.m. to 2 p.m.
The money raised by this project is donated to My Sister's Place, a shelter for victims of domestic violence. You can learn more, including the schedule of sales and workshops, at www.thecrystalcardproject.org.