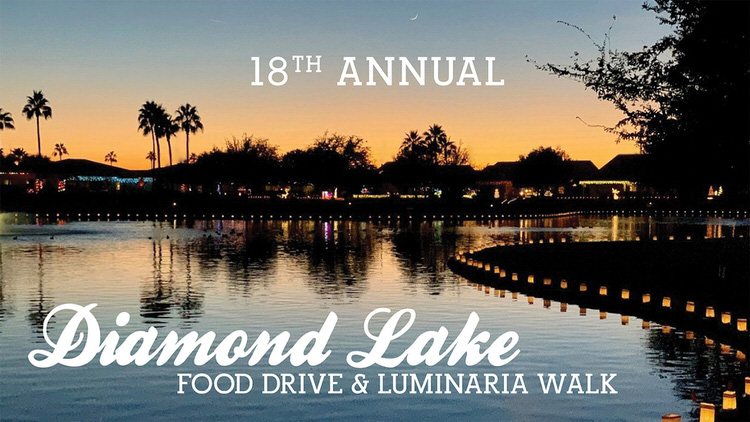 Even though the holiday season seems far away, planning for the Unit 36C 18th Annual Diamond Lake Food Drive & Luminaria Walk around Diamond Lake began in August and September. The Unit 36C Food Drive and Luminaria Walk Steering Committee reports that we will encourage Diamond Lake residents to beautifully decorate their backyards from Thanksgiving weekend through New Year's Day.
The Food Drive & Luminaria dates are as follows: Saturday, Dec. 10, and Sunday, Dec. 11, from 6 to 8 p.m. Steve and Robyn Moody, co-chairs for this annual event, will work with AZCEND (the Chandler food bank) and Oakwood HOA to have donation boxes placed at the Oakwood clubhouse and at the two main entrances to Diamond Lake during the holiday season (Thanksgiving to New Year's Day). AZCEND will pick up donated food items several times a week. To make a tax-deductible monetary donation, please use the following link, which will take you directly to the Diamond Lake 18th Annual Food Drive: fooddriveonline.org/azcend/DiamondLakeFoodDrive. Monetary donations and non-perishable food items will also be accepted at both entrances on both nights.
Come enjoy this beautiful weekend with us while helping those in need. Feel free to email any questions to rmoody55hotmail.com.