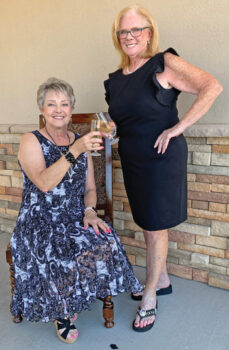 Carolyn Leneway
Are you ready to celebrate the holidays with an elegant semi-formal event? Well, put on your holiday best and join The Greater Sun Lakes Community Foundation for our annual Holiday Fundraising Gala. In keeping with the growth of The Foundation, "We are creating the premier holiday event of the year in Sun Lakes," according to Renee Seifert, the 2022 Holiday Gala chairperson. This year the Gala is an elegant, semi-formal dinner dance with a "Black and White" theme. The evening features a sit-down surf and turf dinner and a cash bar, with live music and dancing by Rhythm Edition. And, as always, we are featuring a fabulous array of raffle baskets and silent auction items to raise funds to support the mission of The Foundation, which is "to enhance the quality of life for residents in the Greater Sun Lakes area in the areas of health, education, and culture."
This year's Holiday Fundraising Gala will be held on Dec. 18 at the San Tan Ballroom in Cottonwood Country Club. Doors open at 5 p.m. with the raffle, silent auction, and a cash bar available. Dinner will be served at 5:30 p.m., and music with Rhythm Edition starts at 7 p.m. The $60 ticket price includes tax and tip, and tickets are now available at slcommunityfoundation.com.
The Foundation's purpose is to be a vehicle for charitable giving in the Greater Sun Lakes area. Since our inception in 2015, The Foundation has awarded over $70,000 in grants and donations to multiple organizations that serve the older population in the East Valley. Examples of the many organizations that have received funding include the Arizona Fire & Medical Authority (AFMA) for the firefighters' food fund; Neighbors Who Care to support the purchase of their new van, as well as many other programs; The Perfect Place that provides adult daycare and family-support services; the Crystal Card Project that gives 100% of their sales to help local shelters; the Sun Lakes Community Theatre to fund workers for moving, set-up, and teardown of production sets and bleachers; and Sun Lakes Community Theatre Children's Productions to support the theatre troupe performing plays that are structured to teach children about theatre in 25 to 30 Chandler elementary schools each year.
The Foundation's ability to award these grants is made possible through the financial generosity of individuals and companies that wish to enhance the quality of life for residents of Sun Lakes. The support by our friends and neighbors at events like the Holiday Gala and the spring Hoedown, as well as the raffle tickets purchased at TAD events at Cottonwood, are central to The Foundation's ability to continue our support of organizations serving older residents in our communities. More information is available on our website, slcommunityfoundation.com.
Please contact Renee, the Holiday Gala chairperson, at [email protected] if you have specific questions about the event.