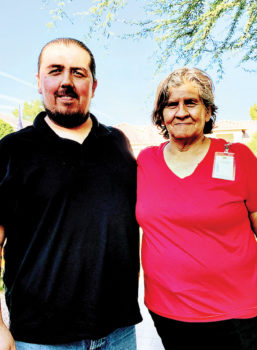 Ginny Marr
Yolanda was the mail carrier for the Chandler portion of Sun Lakes in Ironwood Estates where we have community mailboxes. She also took care of Oakwood Hills, Oakwood Lakes, Ironwood Vistas, Valley of the Sun, Risen Savior Church, and the businesses on the corner of Alma School Road and Chandler Heights Road.
Yolanda served us all for the past 20 years and always went way beyond what was expected of a mail carrier. Her attitude was always positive, and she had a good word for everyone. One neighbor said that after her husband died, Yolanda brought the mail to her house. Yolanda knew us all by name and remembered our family members as well. Many of the people on Yolanda's route celebrated with her on her final days, waving at her and giving her cards with gifts.
Yolanda is a native Arizonian and now lives with her son in Tempe but will soon be moving to the west side of Phoenix where she will be with her other son and family and will be caring for her one-year-old granddaughter.
Currently, Yolanda plans to travel with her sister to visit their younger brother who lives in San Antonio, Texas, and is a firefighter there.
Yolanda will be missed by all on her route who love and appreciate her.