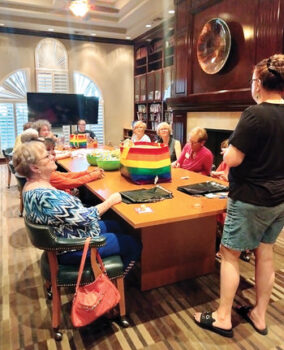 On May 16 members of the American Association of University Women (AAUW) Southeast Valley Branch partnered with Go With The Flow, an organization promoting period poverty awareness, to pack period hygiene kits for two local Title 1 Chandler middle schools.
The AAUW mission is "advancing gender equity through research, education, and advocacy." Promoting period poverty awareness and making period packs available are important. No student should have their education disrupted by the anxiety that can arise from not having access to essential menstrual items, causing lower productivity in the classroom or, worse, missing school altogether.
A survey in 2021 found that 23% of girls struggled to afford period products, while 16% chose to buy period products over food or clothes, and 51% wore period products longer than recommended. The Southeast Valley Branch worked together to sponsor a period packing party for girls who might not have access to products or who might not be able to afford products. When a student at a participating school needs menstrual supplies, they can approach various school staff to obtain a period pack, helping to ensure a continuous supply of menstrual hygiene products for students at no cost to the student or the school.
After packing the period hygiene kits, we participated in teams of two in an online Women's Health Trivia competition that was a lot of fun and very enlightening, with prizes going to the top three winning teams. It was a great evening of socializing with a purpose. All the work, as well as the fun, took place in the library at IronOaks Country Club.
AAUW has been empowering women since 1881.If you are interested in finding out more about our organization, please send email to [email protected] You can also find us on Facebook (AAUW AZ Southeast Valley Branch) or at our webpage southeastvalley-az.aauw.net.