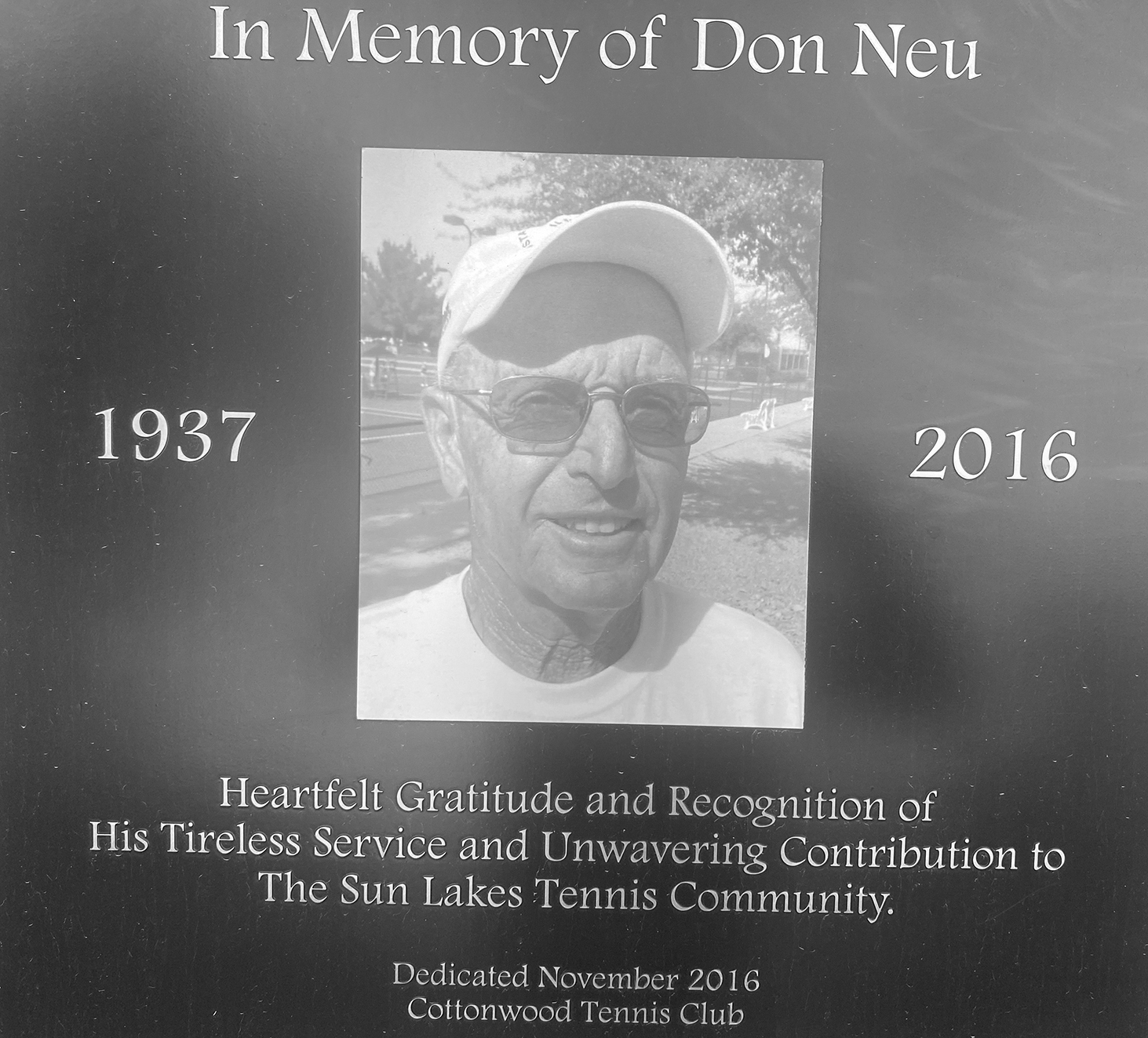 Dean Sinerius
There is still time to register for the Bradshaw/Neu Tennis Tournament, sponsored by the Cottonwood Tennis Club, which will take place from Sunday, Dec. 3, through Saturday, Dec. 9. Entry is open to all 55+ communities in the area, and all the Cottonwood courts are used for the event.
The tournament was named after Kenneth Bradshaw and, recently, Don Neu has also been added to the tournament name. The Sun Lakes tennis community has been fortunate to have two exceptional individuals, Ken Bradshaw and Don Neu, who have made a significant impact on the sport and its enthusiasts. Their contributions, both on and off the court, have helped shape the community, fostering a love for tennis and creating a supportive environment for players of all levels.
A tennis icon, Ken Bradshaw's presence in the Sun Lakes tennis community has been nothing short of transformative. As a highly accomplished player, Bradshaw's skills and achievements have inspired countless individuals to take up the sport. His passion for tennis is infectious, and he has dedicated himself to promoting the game within the community. Through coaching, mentoring, and organizing events, Bradshaw has helped nurture talent and foster a sense of camaraderie among players. His commitment to the sport has elevated the Sun Lakes tennis community to new heights.
Don Neu was a well-known catalyst for growth. Don's impact on the Sun Lakes tennis community cannot be overstated. As a visionary leader, Neu recognized the potential for growth and development within the community. Through his tireless efforts, he spearheaded initiatives to improve tennis facilities, organize tournaments, and establish a strong sense of community among players.
Recognizing the importance of quality tennis facilities, Ken Bradshaw and Don Neu have been advocates for improving and maintaining the courts in Sun Lakes. Their efforts have resulted in upgraded facilities, ensuring that players have access to well-maintained courts that meet their needs. These enhancements have not only fostered an exceptional playing experience, but have also attracted new members to the community. Don and Ken's involvement has strengthened the community spirit and camaraderie within the Sun Lakes tennis community. Ken Bradshaw and Don Neu have left an indelible mark on the Sun Lakes tennis community. Through their passion, leadership, and dedication, they have elevated the sport, inspired players, and created a supportive and inclusive environment. Their coaching, organizing of tournaments, facility enhancements, and community engagement have transformed the Sun Lakes tennis community into a vibrant hub for tennis enthusiasts. The impact of Bradshaw and Neu will continue to be felt for years to come, as their legacy inspires future generations of tennis players in Sun Lakes.
Make sure that you are a part of this event as a spectator, competitor, tournament volunteer, or sponsor. This event is a great way to kick off the 2023-24 season, spend time with your friends, and follow competitors while giving back to the community. This event will be giving the proceeds to the Chandler Boys & Girls Club, Neighbors Who Care, and Ability360. We look forward to seeing you there at club championship matches and wheelchair matches. Our three benefactors appreciate your donations for the success of their community service activity.
Look for the December Splash issue for more news on the events.