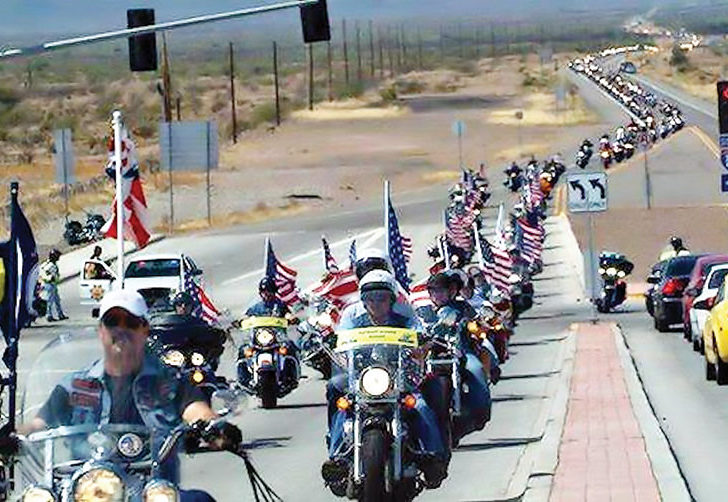 Norm Noble
On Saturday, March 7, the Sun Lakes Rotary Club is sponsoring the fifth anniversary "Hooked on Healing Veterans" Motorcycle Charity Ride. This special event supports the wounded and disabled veterans living right here in our community.
This ride will feature over 100 bike enthusiasts who will ride 101 miles on Saturday, March 7, to raise funds for Project Healing Waters Fly Fishing. The Phoenix program of Project Healing Waters is dedicated to the physical and emotional rehabilitation of disabled active military service personnel and disabled veterans through fly fishing and associated activities. The Sun Lakes Fly Fishing Club is also actively involved in supporting the activities of Project Healing Waters throughout the year, hosting their fly-fishing outings both here in Sun Lakes and on overnight outings nearby.
All bikes, makes,and models are welcome to join in this fun event which features the moving "Circle of Honor" ceremony performed by the Arizona Patriot Guard Riders to kick off the ride, a Poker Run that ends with fistfuls of cash being given to the Best and Worst hands, live entertainment following the ride, a free BBQ hosted by the East Valley Harley Owners Group members, lots of games, and more.
There are many ways you can support our veteran families, including participation in the ride (yes, you may use your car if motorcycles are not your thing), considering a donation to the ride, perhaps thinking about volunteering a little of your time, or just come out and watch the goings on.
For more information on this fun day and how you may join in the fun, you may visit www.healingvets.org or call Stan Kaufman, Sun Lakes resident, at 480-339-0247.