Betty Ball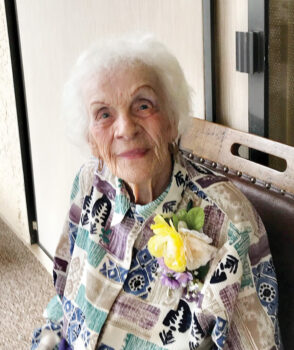 Betty Ball went to be with her Lord on July 23, 2022, at the age of 102 at her daughter's home in Sun Lakes, Ariz. She was born in Detroit, Mich., on April 17, 1920. She was preceded in death by her brother George, who died at the age of five. Also preceding was her husband of 48 years, Eldredge Ball. She is survived by her daughter Carol A. McKay; two grandchildren: Randall Bos of Clarksville, Ind., and Philip Bos of Mesa, Ariz.; eight great-grandchildren; and one great-great-grandchild. Also surviving is a nephew, Gene (Judy) Ball of Surprise, Ariz., and a niece, June Hell of Sun City West, Ariz.
Although she spent 20 years in banking, both in Michigan and Arizona, her greatest love was the piano, starting lessons at the age of five. Through the years, she dedicated her talent to various churches as choir director, accompanist, and worship leader. She wrote her life story for her family and authored several books. Services were held at First Baptist Church of Sun Lakes, Ariz.
Sherill Lea Brouhard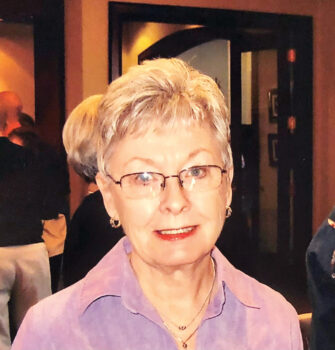 Sherill Lea Brouhard, the daughter of William and Carolyn Brouhard, was born Nov. 1, 1936, in Marshalltown, Iowa. She graduated from Marshalltown High School Class of 1954 and went on to earn her Associate of Arts degree from Stephens College in Columbia, Mo. After completing her education, she flew as a stewardess for Northwest Airlines, a career she loved.
Sherill enjoyed travel and visited countries around the world. She was an avid reader and loved meeting people and learning about other cultures. She was also an artist who worked with pastels. The walls of many who were close to her display her beautiful character portraits and pet pictures. Sherill was quietly generous and regularly donated to the Zearing (Iowa) Library, Arizona Humane Society, and Red Cross. She excelled in her putting group and enjoyed daily walks with her sister and devoted dog Bo. She had a fabulous sense of humor, could easily laugh at herself, and made friends readily, the best of whom was her identical twin sister Sharon.
Death came to Sherill at the age of 85 on Tuesday, Aug. 2, 2022, at the Chandler Regional Medical Center in Arizona. She was preceded in death by her parents William and Carolyn Brouhard, her ex-husband Ted Lieber, and her nephew Hugh Gouthro.
Those left to honor the memory of Sherill include her sister Sharon of Sun Lakes, Ariz.; her daughters: Carolyn Stoebe of Shoreline, Wash., and Lesley Eastman of Phoenix, Ariz.; and her four grandchildren: Michael Eastman, Tyler Eastman, Matthew Stoebe, and Anna Stoebe.
Marvin "Marv" Wayne Coleman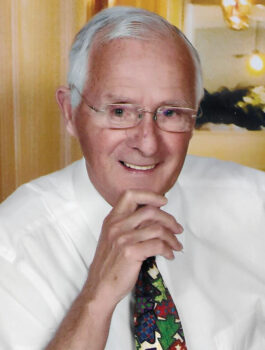 Marvin "Marv" Wayne Coleman, age 84, slipped peacefully from this life into the presence of Jesus on Saturday, Aug. 6, 2022, in San Tan Valley, Ariz. He was born Jan. 5, 1938, in Chicago, Ill., the second of two sons, to Thomas Chester and Ruth Coleman.
Growing up in Cassopolis, Mich., Marv played basketball and baseball for the Sam Adams Rangers and exhibited talent well beyond his stature. He later took up golf, and it became one of the great loves of his life. In 1994 he became a certified PGA pro. He played in many senior tournaments and worked as a teaching pro, passing on his love of the game to those fortunate enough to encounter such a passionate and knowledgeable instructor.
Marv's original career was with "Ma Bell," rising from lineman to regional manager, and he was highly regarded within the company. He received the Pinnacle Award from Indiana Bell Telephone after managing communications for the 1987 Pan Am Games held in Indianapolis, Ind. In retirement, he went on to found "Grateful Family Enterprises," a successful data wiring business that he ran with his wife Pam. They employed his son Dave and, eventually, Dave's son Anthony. It was a family business in the truest sense of the word.
Marv loved spending time in Michigan at the Allison cottage on Donnell Lake and his mother's home on Big Fish Lake. Summers meant fishing, swimming, boating, and water skiing. The pride on his face when each of his kids got up on skis for the first time was priceless. He remained an avid fisherman his entire life and loved nothing more than catching and cooking up "a mess of bluegills" anytime the fish were biting. Marv was also an excellent pool player. He won more than one Arizona State senior championship title.
Marv and Pam loved to travel. They enjoyed taking trips in their camper, often returning to Michigan for weeks at a time in the summer for more family fun at the lake. A recent houseboat trip on Lake Powell with Wendy and Steve's family was the realization of a long-held dream. His truly was a life well-lived. And yet it wasn't his earthly accomplishments that brought Marv peace and joy, but rather his membership in the Church of Jesus Christ of Latter-day Saints. The Gospel and those they share it with became a major focus in their marriage. In 2007-2008 Marv and Pam served a Mission in St. Martin and Trinidad-Tobago supporting the Elders in the West Indies Mission.
Marvin will be greatly missed by family and friends. He is survived by his wife Pamela; his daughters: Sherry Hyatte, Wendy (Steve) Grace, and Kathy Coleman (Lisa Brown); eight grandchildren; and eight great-grandchildren. He was preceded in death by his parents, his brother Thomas L. Coleman, ex-wife Karen Coleman, and their son David Wayne Coleman.
Lynn Dunlap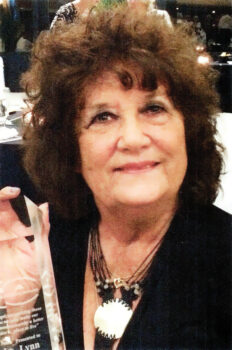 It is with great sadness that we announce the passing of Lynn Dunlap from IronOaks in Sun Lakes, Ariz. Lynn passed away Aug. 3 at her home with her loving husband Earl by her side.
She was born on Sept. 14, 1939, to Norman Wise and Evelyn Hunsberger in Sellersville, Pa. She was a graduate of Pennridge High School Class of 1957 and later that year, married dear Earl. Lynn worked in insurance for many years, then started her own business selling promotional products under marketing imprint. Part time she became a private investigator, a job she loved very much. She was also an extra in the 1993 Cybill Shepherd movie Telling Secrets
After retirement in 2000, Lynn and Earl moved to IronOaks where she became very active in various committees and clubs. She was an early contributor on the camera crew for the local Western Broadband Channel 49 TV station in Sun Lakes. That was step one in her effort to make Sun Lakes "home" to everyone who lived here. She became actively involved in many committees to achieve this goal: the Unit Captains, Welcome Committee, Election Committee, Food & Beverage, and Activities Committee. Lynn also became well known to all in Sun Lakes working as a volunteer, along with Earl, taking tickets and welcoming guests to our Billboard Series entertainment events.
To honor her wonderful contribution to the Sun Lakes community, Lynn was granted a Crystal Award in March of 2017.
Lynn was the beloved wife of Earl for 65 years. She is survived by Earl, daughter Deb Curtis of Phoenix, Ariz., and four grandchildren: Nathan Curtis, Holly Curtis, Hunter Standen, and Tyler Standen. She was predeceased by her daughter Donna.
Lynn was a terrific wife, mother, grandmother, and friend. She will be missed and loved forever. In her honor, in lieu of flowers, consider donating to a charity of your choice that supports those friends and family that you cherish.
James N. Foldenaur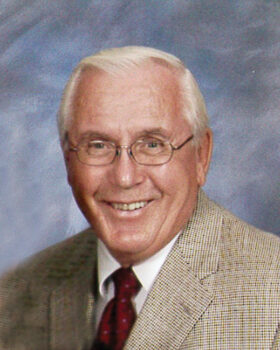 James Nicholas Foldenaur, 86, of Maple Lake, Minn., passed away peacefully surrounded by his loving family on Wednesday, July 27, 2022. Jim was born Dec. 24, 1935, the son of Aloysius and Florence Foldenaur, in Fargo, N.D.
He married Janice Hogan on June 27, 1958, recently celebrating their 64th wedding anniversary. After graduating from high school in 1954, Jim served in the U.S. Air Force National Guard and the U.S. Army. After his military service, he attended Moorhead State Teachers College. Jim then worked throughout his business career at Twin City Hardwood Lumber Company and Weiser Lock as a territory manager. He retired at 62 and spent winters in Sun Lakes, Ariz., and summers at their beautiful lake home on Sugar Lake in Maple Lake, Minn.
Jim absolutely loved playing golf, watching and rooting for the Minnesota Twins and Vikings, and spending time with his wife and family. He is survived by his loving wife Janice; his daughter Jami (Mike) Wallar of Champlin; two sons: John (Vivian) Foldenaur of Andover and Jeff (Holly) Foldenaur of Shoreview; six grandchildren: Carly, Jake, Noah, Annie, Jackson, and Willie; step-grandsons: Andy Wallar and Jon (Kim) Wallar; great-grandchildren: Laney, Will, and Alex; and  many loving friends. He was predeceased by his sister Dorothy, his parents Aloysius and Florence Foldenaur, and his mother-in-law and father-in-law Sigurd and Mildred Hogan.
Memorial services were held on Aug. 5 at St. John's Lutheran Church in Annandale, Minn., with interment in Fort Snelling National Cemetery.
Barbara R. Gillin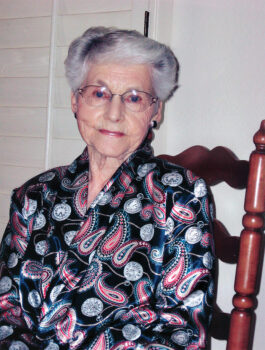 Barbara R. Gillin of Cottonwood Country Club in Sun Lakes, Ariz., passed away on July 21, 2022, at the age of 100 years. She was the loving mother of Dick Gillin and Judy Moskal.
Ernestine Heywood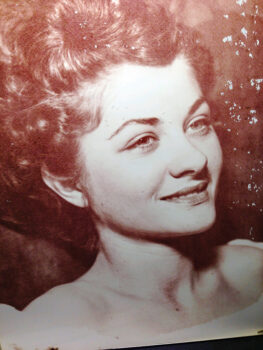 Ethel Ernestine Heywood passed away on July 13, 2022, at Friendship Village Hospice of the Valley in Tempe, Ariz. She was 98 years old.
Ernestine was born on Oct. 2, 1923, in Butterfield, Mo., to Ethel and Ernest DeFord. Her father was a bit of a renaissance man. His variety of business interests kept them traveling. The life of a "rolling stone" appealed to our mother. She was very close to her parents, likely due to their itinerant lifestyle. The three of them were a unit. She received her assertiveness, positive attitude, and confidence from her father, and from her mother, compassion, understanding, and sewing! Her love of music came from both parents. She played flute and sang in the choir. Our mother had a beautiful voice.
She graduated from Galt High School in Galt, Calif., and earned her bachelor's degree from San Jose State University. Upon graduating, she became a stewardess for United Airlines. She flew "the friendly skies" in DC3s during a time when flying was very adventuresome and glamorous.
She met Stan Heywood at United Airlines. Three months after meeting, they married. Her father, a Methodist minister at the time, married them on Jan. 4, 1948. They were married 72 years.
She raised four girls, traveled the world, was involved in all her children's school and extracurricular activities, served as PTA president, and sang in semi-professional shows. In later years, she was a member of Clipped Wings, an organization for retired flight attendants. She was very active in the Phoenix chapter, which was involved in Special Olympics as well as raising funds for Valley Life, a local home for children with special needs. In her early 90s, as a volunteer for Neighbors Who Care, she drove people to and from doctors' appointments and took in-home visitations to offer relief to caregivers.
She was a major influence in our family and taught all of us to take risks; to be positive, kind, honest, and true; not worry about what other people think; and to water ski. She and our father learned to water ski in their 40s after they purchased a mobile home on Lake Berryessa in Napa, Calif., where, for over 30 years, our family would congregate every summer.
Ernestine is survived by her four daughters: Sydney Engle, Jacklyn Stanton, Standra Harmon, and Leslie Arampatzis; her seven grandchildren; and her 10 great-grandchildren.
She was a wonderful mother, grandmother, and friend. We will miss her.
Cathleen Cecile Kinnick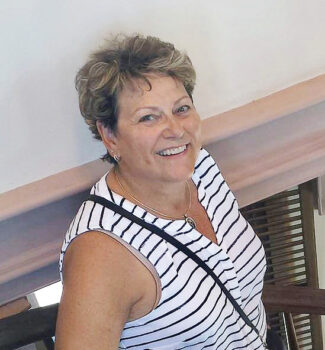 Cathleen Cecile Kinnick, 71, of Sun Lakes, Ariz., passed away peacefully at her home on Thursday, Aug. 4, 2022. She was born in Milwaukee, Wisc., on Oct. 19, 1950, to the late Carl and Ceil Mack.
Cathy graduated from Pulaski High School and attended the University of Wisconsin in Milwaukee. Her career expanded over 45 years at Aurora Health Care, retiring as an executive administrative assistant. She enjoyed crafting, playing card games, and golf.
Cathy is survived by her devoted husband R. Daniel Kinnick; her children: Robb (Maribeth), Tyler (Kendra), and Amanda (Sebastian); her grandchildren: Eva Marie and Izzy Lane Kinnick; and numerous nieces and nephews. She is preceded in death by both of her siblings, Robert Mack and Cynthia Mack.
In lieu of flowers, please consider a donation in Cathy's memory to either Hospice of the Valley in Arizona, www.hov.org, or the Vince Lombardi Cancer Foundation in Wisconsin, www.lombardifoundation.org.
The family invites you to express your condolences online at valleyofthesunfuneralhome.com.
Norma Joy (Nelson) Marsh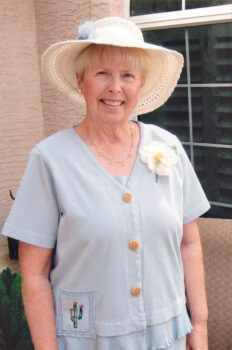 Norma Joy (Nelson) Marsh, age 77, passed away July 25, 2022, at home in Sun Lakes, Ariz.
Norma was born Sept, 12, 1944, to Walter and Grace Nelson of Comstock, Neb. She graduated from Comstock High School in 1962 and received her bachelor's and master's degrees in elementary education from the University of Nebraska. Norma enjoyed a career of teaching in the Lincoln Public Schools for 32 years. Thirty of those were at Meadow Lane Elementary School where she cherished lifelong friendships.
Norma married John Marsh on June 10, 1967, and they were fortunate to share 55 years of marriage together. They lived in Lincoln, Neb., until they both retired in June of 1998. After retirement, they moved to Sun Lakes, Ariz., where they made many new friends and enjoyed the wonderful activities available in that retirement community.
Throughout her retirement years, Norma loved being involved with many groups in Sun Lakes, some of which were the Lady Putters, Sun Lakes Garden Club, Women's Connection, the Methodist Church, Neighbors Who Care, the Sun Lakes Nebraska Cornhuskers, and the Ironwood and Oakwood Lady Niners Golf Leagues, and she loved Tea Parties and attending Tea Tasting classes. Norma and John participated many years in the Sun Lakes Ballroom Dance Club. They also belonged to several Corvette clubs and enjoyed many activities and trips with their Corvette friends. A favorite activity was her monthly Corvette Chicks' Luncheon.
Norma was preceded in death by her parents. Survivors are her husband John of Sun Lakes; brother Alvin Nelson of Comstock, Neb.; sister and brother-in-law Joe and Neva Mattox of Broken Bow, Neb.; several nieces and nephews; great-nieces and nephews; and many wonderful friends.
There will be a private graveside service at a later date at the Douglas Grove Cemetery near Comstock, Neb.
Jerry James McKay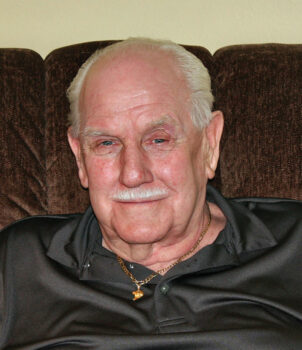 Jerry James McKay passed away on May 25, 2022, near Sun Lakes, Ariz. He was preceded in death by his parents, two brothers, one sister, and Linda McKay, his wife for 50 years. He is survived by his current wife Carol A. McKay, his son Brad (Karla), six stepbrothers and sisters, his stepmother Rose Sills, five grandchildren: Mackenzie McKay, Brayden McKay, and Justin McKay. Also surviving are four stepchildren: Emma Allen, Casey Allen, Randall Bos, and Philip Bos.
Jerry graduated from Sweet Grass County High School in Mont. After graduation, he enlisted in the Navy Submarine Service as a machinist. Upon completing his tour of duty, he spent many years as a manager in a Libby, Mont., lumber mill. He also worked for the U.S. Forest Service and later went on to be a successful salesman. Word has it that he could sell ice to Eskimos.
There aren't many things that Jerry couldn't fix or tell you how to fix. His hobbies were hunting, fishing, drag racing with his own racing car, boating, and swimming in the Oasis Pool every afternoon at 4 p.m. A private service will be held on Sept. 10 with military honors.
Dorothy Mary Patrick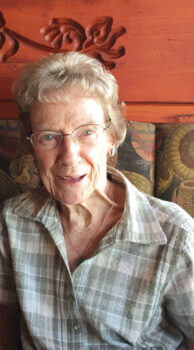 Dorothy Mary Patrick, age 97, loving mother, wife, and grandmother, passed away in the early hours of July 19, 2022. She was 20 days shy of her 98th birthday. Grammer, as she was known to her grandchildren, was born on Aug. 8, 1924, in Cincinnati, Ohio, to Irving and Lillian Schmidt. She was the second born in a family of eight children—four girls and four boys. She married Kenneth L. Patrick of Dayton, Ohio, on March 8, 1944, and was blessed with daughters Beverly and Susan. She and her husband were married for 66 years before his passing in 2011. Being a military family, Dorothy had to adjust to the words, "We're transferred … start to pack." Dorothy always made their new homes happy ones and believed that we make our own happiness. You jump in with both feet and get involved. And she did.
She was a Grey Lady in a military base hospital and a Girl Scout leader. While stationed in Colorado Springs, Colo., she worked at Fountain Valley Boys School. Her husband traveled a lot, and she picked up the slack of raising her two girls while he was gone. When they married, she had no way of knowing how many moves they would make. One of their favorite places that they enjoyed was Lake Oswego, Ore. She and Ken were members of the Portland Yacht Club. A highlight of that time was time spent on the boat with their grandchildren traveling through the San Juan Islands and fishing for salmon and digging for clams. Dorothy made a mean clam chowder.
Dorothy was a devoted wife, the best mom ever, a loved sister, and a good friend to many. She was very excited when her youngest sister Judy moved to Lake Oswego with her family. Dorothy became very close to her sister Judy and brother Fred. At 97 years of age, Dorothy was part of five generations in two of her grandchildren's families—something that doesn't often happen.
Preceding her in her death were her parents, husband Lt. Col. Kenneth Patrick, daughter Susan DeMann and grandson Scott DeMann, sisters Betty McCarthy and Pat Wampler, brothers Bud Schmidt and Donny Schmidt, and nephew Buddy. Dorothy is survived by her daughter Beverly Weatherill (Jim) of Cortez, Colo.; son-in-law Lenny DeMann of Minn.; grandchildren: Trey Weatherill (Tracy) of Redlands, Calif.; Todd Weatherill of Kemah, Texas; Brooke Elder (Scot) of Dolores, Colo.; Tim Sullinger (Beverly) of Beatrice, Neb.; and Brandy Kingsbury (David) of New York Mills, Minn.; 14 great-grandchildren: Brittany, Bradley, Taylor (Evan), Cam, Kai, Nalu, Jordan, Kala, Sydney, Keegan, Jeff, Cole, Tanner, and James; three great-great-grandchildren: Liam, Harper, and Lincoln; sister Judy King (Russel) of Newburg, Ore.; and brothers: Fred Schmidt (Ronnie) of Folsom, Calif., and Jerry Schmidt (Joann) of Glendora, Calif.
She was greatly loved by all of her family. She had a wonderful life, living throughout the world when her husband was in the military and traveling throughout their retirement in Sun Lakes, Ariz. They loved playing golf, tennis, and bridge. She lived in Sun Lakes for 32 years. A Celebration of Life will occur in the early Summer of 2023 in Colorado. Contributions in her name can be made to Hospice of the Valley.
Ethel JoAnne Tallman
Ethel (JoAnn) Tallman passed away quietly on July 26, 2022, at the age of 86. Wow, what a life she lived. She was a strong, hardworking, no-nonsense woman. JoAnne was born in Quincy, Ill., to Elsie and Otis Brewer on March 20, 1936.
During her life, she loved participating in 10K runs, playing tennis, biking, hiking the mountain trails throughout Arizona, and square dancing with her husband Dick of 34 years. She had a wonderful life filled with her family and friends. JoAnne was so dearly loved and will be sorely missed.
She is survived by her sister, Mary Ellis; her son, Bill Cramer Jr.; daughters Anna Harbour (Mike), Christina Ingo (Anthony), and Lisa Mansfield (David); stepchildren Wade, Wanda, Marv, and Mark; 20 grandchildren and 23 great grandchildren; and her dear friends Brian and Paula Robb, who with their generosity of time and love helped JoAnn and her very grateful family at this most difficult time.
She is preceded in death by her beloved husband (Dick), mother and father (Elsie, Otis), her sisters (Patricia, Vanessa), her brother (Daniel), and her first husband William Cramer.