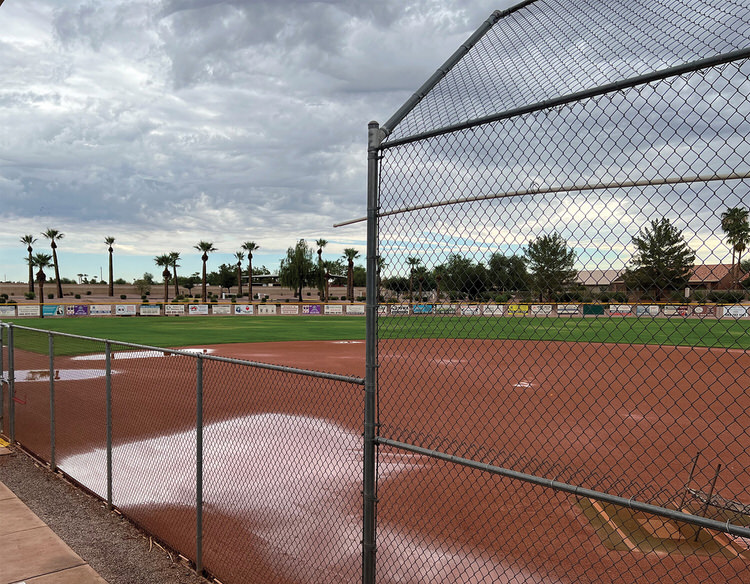 Larry Wolfe
You probably know that in the Internet world "www" stands for World Wide Web; however, in the world of Sun Lakes Senior Softball, "www" stands for Warm Weather Warriors! While many of our members head north for the summer or just take it easy around here, about a third of our guys continue playing throughout the summer months. Our Summer League started in May and will conclude on Sept. 22. There are three Sun Lakes teams in the Summer League and a fourth team from Robson Ranch. We've been playing doubleheaders every Tuesday and Thursday morning with the start time of 7:30 a.m. helping the guys escape the worst of the hot temperatures.
After the Summer League concludes, the Field of Dreams will be closed for overseeding of the outfield grass. We'll practice for the Fall Season at Snedigar Park in Chandler during that time. Check our website, www.sunlakessoftball.com, for specific dates. The Fall Season will start in late October. If you're interested in joining us, come by Snedigar Park to sign up.
Since there's not much softball news this time of year, how about a baseball fun fact? In our leagues, we start each game with a new ball and use several older balls as backups. In the Major Leagues, the lifespan of a baseball is between five and seven pitches. During a typical game, seven to ten dozen baseballs are used!
On a sad note, we send out our continuing thoughts and prayers to Dick and Judy Bleich on the recent unexpected passing of their son.