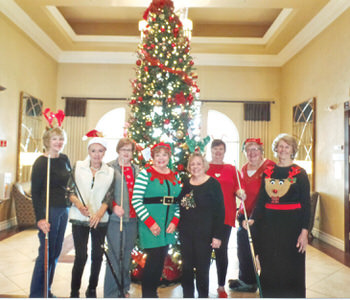 Judy Wolthausen
Ladies, have you played pool before? Have you recently moved here, or are you just wishing you had more good friends to enjoy life with?
Well, the IronOaks Ladies Billiards group is welcoming new members. And if you feel a bit rusty, we can get together separately to increase your confidence and give you a chance to shake out those cobwebs.
Our group met on Dec. 7 for our annual Christmas Challenge game and celebrated Christmas together at Keegan's for lunch.
Our season runs from the first Tuesday in October through the second Tuesday in May. Many residents are snowbirds and leave during summer and return after the heat has subsided. Others are full time residents and play every Tuesday.
We meet at 9:15 a.m. on Tuesdays to practice and catch up with our teammates. At 9:30 a.m. we draw numbers to determine our partner and divide into groups of four to play on one of four Olhausen pool tables. We play 8-Ball for the lion's share of the 1-1/2 hours, then play 9-Ball or cut throat if there isn't enough time to complete another game of 8-Ball. We quit promptly at 11 a.m. and lunch together at a wide variety of restaurants in the area on the first Tuesday of each month.
Our team has evolved into a second family for many of us. We employ a caring attitude, supporting each other as we tackle the inevitable challenges that come with age. We also help each other become better players by willingly sharing our knowledge.
Our group is open to women with some experience playing pool, residing in Sun Lakes (Oakwood, Ironwood, Cottonwood, and Palo Verde). If you're looking for a fun group and can commit to playing most Tuesdays (summer months are optional for snowbirds), you should come check out our group on a Tuesday morning at 9:15 or call Judy Wolthausen, our current president, at 630-728-5937 for more information or to arrange a private session. Feel free to leave a confidential message or email her at [email protected] We'd love to add you to our fun group!