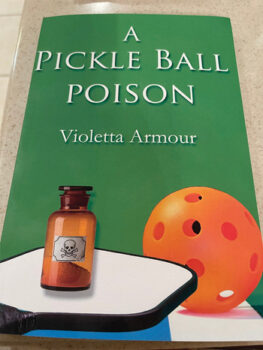 Sun Lakes resident Violetta Armour combines her passion for pickleball and mysteries in A Pickleball Poison, her most recent publication.
A brief synopsis: Esther Connor wasn't the most popular person on the pickleball courts in her retirement community, but was she disliked enough for someone to poison her? Evidently. Widow Angelina, amateur sleuth, and widower Guy, detective, pair up once again to solve a murder. Meet the possible suspects and the pickleball gang in a retirement haven where passions abound on and off the court. From gambling addictions to shoplifters to those seeking forgiveness and revenge, A Pickleball Poison explores not only America's fastest-growing sport, but the human heart.
Readers' Favorite review says, "A Pickleball Poison was everything I could have wanted in a mystery murder. It was refreshing to have a cast of senior citizens in the starring roles. It is light and fast reading, making it all the more enjoyable. Realistic and warm characterization, a strong storyline, and a murder mystery with plenty of twists and turns."
A Pickleball Poison is the third book in her Dangerous Pastime series, which includes A Mahjongg Mystery and S'Mores Can Be Deadly.
Violetta will be speaking at Adventures in Learning on Feb. 9 at 1 p.m. at the Chandler-Gilbert Community College on Riggs Road, sharing the pitfalls and highlights of her publication journey. Her first book, I'll Always Be With You, received a Readers' Favorite Gold Award and became a book club favorite. She's happy to visit book clubs in Sun Lakes who select her book for their discussion. All her books are available on Amazon.