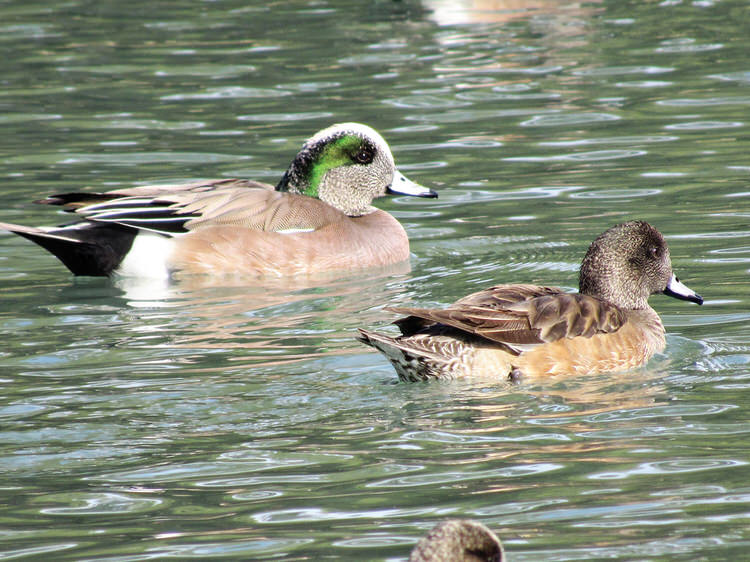 Gwen Grace
Did you walk your dog recently or take a walk yourself around a lake and find little ducks eating grass? They are American wigeons, usually found in a large flock. According to eBird, they have flown from Northern Manitoba or Northwest Territories, 4400 miles away! Now that's a workout—inspiring if your New Year's resolution was to exercise!
The wigeon is smaller than the mallard by three inches. You might note that the males have a white stripe on their colorful green head. And you will see many more males than females at first. A few weeks after the males arrive, the females and juveniles arrive. Mom cleaned up before leaving!
Many more arrivals can be seen on Desert Rivers Audubon (DRA) Family Bird Walks at:
Chandler's Veterans Oasis Park, Lindsay and Chandler Heights Roads, on Saturday, Feb. 5, from 8:30 to 11:30 a.m., and
Gilbert Water Ranch, Guadalupe and Greenfield Roads, on Saturday, Feb. 19, from 8:30 to 11:30 a.m.
Desert Rivers Audubon has bird leaders to point out the various bird visitors and will lend you and the grandkids binoculars to use. There is a bookstand for bird guides and children's bird books to purchase.
The following DRA monthly speaker meetings are as follows:
Feb. 8 at 7 p.m.: Cathy Wise, Community Science Manager, Audubon Southwest. "We Are in this Together: What Community Science Is and Why It Matters"
March 8 at 7 p.m.: Liberty Wildlife – Live Raptor Show
The meetings are in person (with masks) and on Zoom. Go to the website Desertriversaudubon.com to register for Zoom. Our monthly meetings and Family Bird Walks end in April. Step out now. You probably won't see the wigeons at the parks. They prefer our newly planted grass in Sun Lakes.