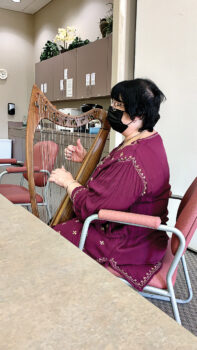 Rose Saunders
Research has shown that music can enhance the quality of life for older adults. Listening to or singing songs may provide emotional or behavioral benefits to those with Alzheimer's or dementia. Key brain areas linked to musical memory are relatively undamaged in dementia. Music can be a way to communicate with those who have lost the ability to verbalize in other ways. It can also help relieve stress, reduce anxiety and depression, and reduce agitation.
The Perfect Place is an adult day program that provides social and recreational activities for older adults with cognitive challenges. Our participants were delighted to be entertained by Danielle Franklin of Hospice of the Valley, on Monday, Nov. 30, while their caregivers had some time to meet their own needs, by attending a picnic at Sisk Park in Palo Verde. Ms. Franklin sang and played the ukulele while focusing on songs made famous by Dean Martin, Frank Sinatra, Perry Como, Patti Page, Doris Day, and others. The attendees sang along, and some even danced to the tunes.
Later in the afternoon, Ms. Franklin showed the group a Gothic harp and explained its history. This lap harp is much smaller than a standard harp. She engaged the group by playing the harp and singing Christmas carols.
If you know someone who could benefit from the services of The Perfect Place, please visit our website at www.theperfectplacecare.org, or call us at 480-895-2895. We provide a safe, structured environment for our participants, while giving their caregivers much-needed time for themselves.