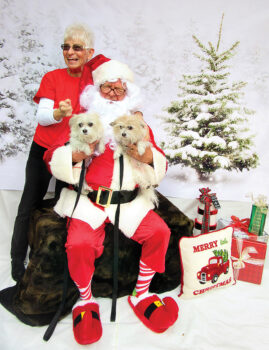 Rover's Rest Stop
Happy New Year! Now that the celebrating is over and a semi-routine has returned, it just might be a perfect time to welcome a new family member. When picking your new friend, you must consider: How many hours will the dog be alone? Do you have a secure yard? How much time do you have to walk, groom, play, and train? Do you have financial restraints as regular medical care and emergencies happen? Good food is very important in keeping them healthy—you are what you eat. If you travel, a pet sitter may be required. And the list goes on.
After the above logistics are figured out, you can then look to the dog (or cat), what breed, size, sex, color, age, etc. When considering age, consider that smaller dogs mature slower than larger ones and generally live longer. A small dog that is four to six years old is still very young in the overall picture. Everyone wants a puppy or very young dog, and that leaves so many perfect dogs waiting for love. Mature dogs make excellent pets for a number of reasons.
1. Mature dogs were once owned and loved by someone, and through no fault of their own, ended up homeless. They make loyal and loving companions. They are grateful.
2. Mature dogs are overlooked for the puppies and young dogs. Mature dogs are among the first to be euthanized, so you are not only providing a better life, but saving their life.
3. Mature dogs have lost their home for a variety of reasons, usually having nothing to do with their behavior or temperament. They make wonderful companions, and they know they have been specially chosen.
4. Mature dogs usually know basic commands and are potty-trained. Adopting an already-trained dog will save you a lot of time and energy. You can start loving right away!
5. Mature dogs are easier to train, they have a greater attention span than a puppy, and have more life experience (you know about that one!).
6. Mature dogs are calmer and wiser in worldly ways than younger ones. They have established their demeanor and temperament, allowing you to know how they will fit into your household—what you see is what you get.
7. Mature dogs make instant companions, they are ready to accompany you on a long walk, make a great workout partner, a loyal companion, and a late-night snuggle buddy.
You can find information on the web, and my favorite go-to, Cesar—several articles regarding rescues and energy, fostering, relinquishing, puppy mills, and shelter dogs, www.cesarsway.com/dog-care/senior-dog/7-Reasons-to-Adopt-a-Senior-Dog.
Personal experience: I urge you to consider adopting a mature dog. You will not regret it! Just ask me! D at 480-600-2828.
Check out our Facebook page, www.facebook.com/roversreststop, for great articles. You can help the Kids, too, via Amazon Smiles and our Wish List at www.RoversRestStop.com. Please share that we do boarding, too!
Happy New Year! from Rover's Rest Stop Kids!