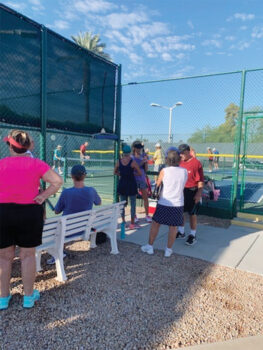 While many of our friends and fellow pickleball players have been enjoying cooler weather across the country, our courts have been full all summer long. The Sun Lakes Pickleball Club Cottonwood has had by far its busiest summer ever! We have had full courts with nearly 100 active players enjoying America's fastest-growing sport. According to numerous sources, pickleball is now the fastest-growing sport in the United States. In 2021, pickleball participation ballooned to 4.8 million players, almost double the number from just five years ago.
As fall approaches with cooler weather and the return of our winter visitors, we expect another record number of players enjoying this wonderful sport with our current available seven courts running at full capacity.
For more information about our club, check out our website, www.slpcc.net.