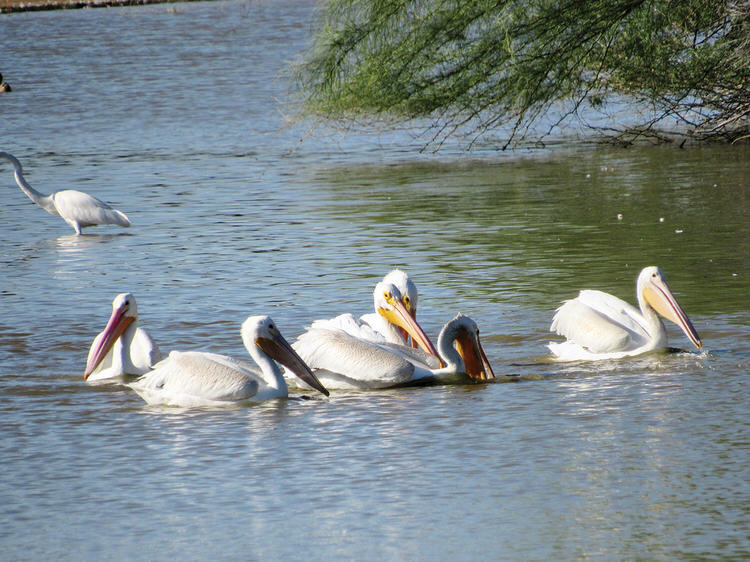 Come visit a Desert Rivers Audubon (DRAS) Family Bird Walk and see pelicans! Pelicans were swimming at the Gilbert Water Ranch. Sometimes it's hard to know you are in Arizona when you see pelicans. Enjoy a day outside and bring the visitors.
Desert Rivers Audubon has Family Bird Walks at Gilbert Water Ranch and one at Chandler Veterans Oasis Park monthly. Expert bird guides can show you the regular birds and the surprise arrivals.
The next Family Bird Walk is on Jan. 8 at Veterans Oasis Park in Chandler, at Lindsay and Chandler Heights Roads.
The Jan. 15 Family Bird Walk is at the Gilbert Riparian Preserve at the Water Ranch, Guadalupe and Greenfield Roads.
Walks start about 8:30 a.m. as a group forms, and the last walk is at 11 a.m. Binoculars are available with no fees.
On Jan. 11, the next DRAS meeting, well-known nature photographer Cindy Marple will present her findings on Antarctica birds and animal life.
Join DRAS's in-person meeting at the Gilbert Library or Zoom presentation on Jan. 11 at 7 p.m. To sign up for the Zoom connection, visit the Desert Rivers Audubon website www.desertriversaudubon.org and click on Registration.