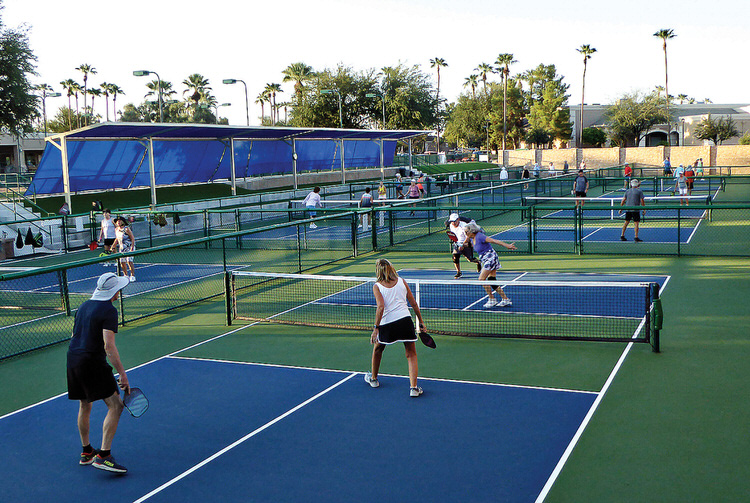 After a nearly two-year absence, the Sun Lakes Pickleball Club IronOaks is back! The club's purpose is to enhance the experience of its members by promoting programs that encourage participation in pickleball at all skill levels and providing active pickleball programs that include organized play, social play, league play, tournaments, intra-club events, and inter-club events. The club also aims to promote fellowship and good sportsmanship among all members and provide activities for the enjoyment of all members.
A team of volunteers has been assembled to help bring this mission to life: Volunteer Team Lead Chuck Eberhardt, Secretary/Treasurer Kathy Woys, Communications Coordinator Diane Halpern, Court Management Coordinator Tom Wilson, Player Development Coordinator Rhonda Stanford, Volunteer Members Coordinator Chris Eberhardt, and Events Coordinator (TBD). As you might expect, many other volunteers will be needed to get things up and running smoothly. Thanks to all the club members who have already pledged to volunteer, and for other club members wishing to volunteer, please feel free to contact Chris Eberhardt or any of the volunteers listed above if you'd like to get involved.
We have lots of exciting things planned for the future, one of which is coming up soon. The club will be hosting a Fall Festival Social event on Saturday, Oct. 30. Rest assured, we will have plenty of tricks—and treats, too, of course—up our sleeve. It's sure to be great fun for everyone, whether you're new to pickleball or have been playing for years. Don't miss this great opportunity to get together with old friends or make some new ones!
Volunteers will be manning a table at the IronOaks annual Activities Open House in the Oakwood ballroom on Oct. 19 from noon to 4 p.m., so please stop by to say "hi" and learn more about the pickleball amenity membership and Pickleball Club. We're excited to be back and can't wait to tell you all about the fun things we have planned!
For more information about the Sun Lakes Pickleball Club IronOaks, please visit our website at www.ironoakspickleball.com or contact us at [email protected]