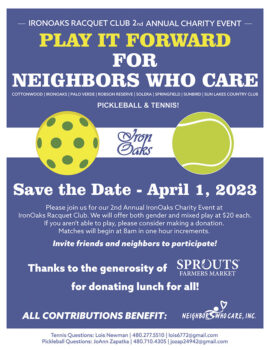 IronOaks Racquet Club is planning its second annual tennis event to benefit Neighbors Who Care. This year, pickleball is also being offered for the one-day fun event scheduled for Saturday, April 1, 2023.
All area communities are encouraged to join: Cottonwood, IronOaks, Palo Verde, Robson Reserve, Solera, Springfield, SunBird, and Sun Lakes Country Club.
The event will offer both gender and mixed play at $20 per person. The group is requesting that those who cannot play consider making a donation to the tournament on behalf of Neighbors Who Care. All matches will begin at 8 a.m. and will last one hour.
For more information about tennis and signing up, contact Lois Newman at 480-277-5510 or [email protected].
For more information about pickleball and signing up, contact JoAnn Zapatka at 480-710-4305 or email [email protected].
Sponsors are being sought until they fill up. If your company is interested in having a banner at the site or in an item for the goodie bags, contact Sheryl Keeme at [email protected]. All proceeds benefit Neighbors Who Care's 13 programs helping homebound seniors.
The opportunity is IronOaks Racquet Club's 2nd Annual Charity Event, Play It Forward for Neighbors Who Care
Event Stats:
Capacity: More than 1,000 players and guests from Sun Lakes
Audience: Sun Lakes area residents
2022 Player Count: 200 (only tennis in 2022; pickleball added this year)
What: IronOaks Play It Forward Fun Pickleball and Tennis Event
When: Saturday, April 1, 2023
Where: IronOaks Racquet Club
How: $20 per player to play
Benefits: 100% Neighbors Who Care