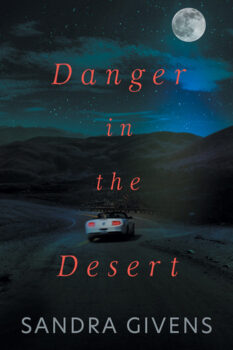 Sandra Givens, Sun Lakes resident and author, has just released her latest book, Danger in the Desert, available on Amazon.
In this story, sometimes reflected in real life, a man becomes obsessed with a woman, and his actions turn her life upside down. Desperate to stay safe, she embarks on a mission to learn how to defend herself. As she leaves her familiar life behind, she wonders what awaits her on this journey of self-discovery.
Givens received her B.A. in English from California State University at Sacramento. She is the recipient of the prestigious IABC (International Associate of Business Communicators) Award of Excellence. This is Givens' sixth book. Other books include Running Horse Ranch, Love at the Ranch, Maui Christmas, Second Chances, and Night Flight to Paris, all available on Amazon. Her short story, Life with Auntie, was her first published work in 2013.
Danger in the Desert
When Karen Baker goes to a holiday party at the exclusive Del Rey Beach Club with her best friend Ginny, standing in for Ginny's husband who was traveling for business, she meets a man who presents himself as William F. Powell, an international businessman. He seems respectable, so when he gives her his card and asks for her phone number, she gives it to him.
Several weeks later, he calls and asks for a date. She accepts and has a pretty good time. They date for a month or so before they fly away on his corporate jet for a weekend in Napa. It is there that they are intimate for the first time. It is also where things begin to change.
The next time Bill calls, he tells her what they'll do. Karen doesn't want to be told rather than asked, so she declines the date. He is not happy. When she declines the next date, his behavior changes even more and he becomes threatening.
As Bill becomes more insistent and more demanding, his anger grows and he gets physical. She feels she is in danger.
Now, Karen is running away. She knows what she's running from, but what is she running to?