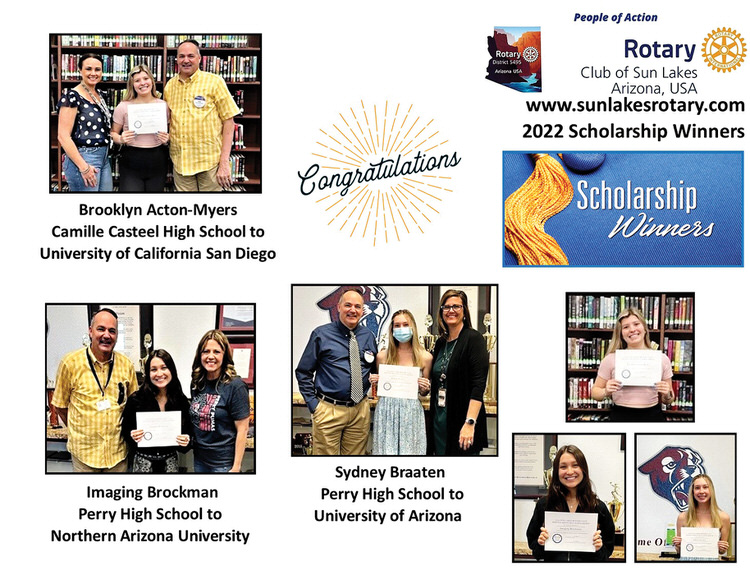 Dr. Honora Norton, RCSL Public Image Director
The Rotary Club of Sun Lakes (RCSL) extends congratulations to the winners of the Rotary Club's 2022 High School Service Above Self Scholarships to the following:
* Sydney Braaten: Sydney will graduate from CUSD Gilbert's Perry High School after attending the high school all four years. She has attended Chandler Unified Schools since kindergarten. Sydney has held a variety of officer positions during her high school career, including president of the Sparrow Club, vice president of Women in Stem, and public relations officer for SkillsUSA. She is widely involved in community service organizations throughout Chandler, including AZCEND, YMCA, Relay for Life, Sharing Down Syndrome, and Feed My Starving Children, to name just a few. Sydney plans to attend the University of Arizona in the fall, majoring in microbiology and business to pursue dentistry. She is well on her way, having already achieved her associate's degree through the dual enrollment classes taken at Perry.
* Imaging Brockman: Imaging will graduate from CUSD Gilbert's Perry High School after attending the high school all four years. She served as president of the Gilbert Lions-Leo Club and the Puma Pals this final year of her high school career and served her community in a variety of ways with multiple community organizations. Most recently, she was instrumental in planning and coordinating the prom event for Perry's special needs students. She is graduating in the top five percent of her class (Summa Cum Laude) and plans to attend Northern Arizona State University, studying psychology, with the goal of becoming an applied behavioral analyst.
* Brooklyn Acton-Myers: Brooklyn will graduate from CUSD Queen Creek's Camille Casteel High School where she has been attending since 7th grade. She has attended Chandler Unified Schools since kindergarten. She has served as the team captain for both the 2020 and 2021 seasons for Top Gun Cheer. Brooklyn has spent the bulk of her service and volunteering serving as a cheer coach to three- to seven-year-olds three times a week, as well as coaching cheer to students with special needs. Brooklyn will be attending University of California San Diego (UCSD), studying human biology to become an orthodontist.
According to RCSL Scholarship Committee Chair Leo Schlueter, the $2,000 scholarship payments will be sent directly to the school/university the student will be attending this fall. A panel of judges, which included RCSL members Dr. Craig Gilbert and RCSL members/Sun Lakes residents Don Robins and Gary Kay, reviewed and scored applications from area high school seniors. Each application included a 300-word essay, which provided the student's beliefs and understanding of what "service above self" means; teacher recommendations; and student academic standing data. Also, RCSL's selections were based on each student's exhibiting exemplary acts of service and character.
RCSL, chartered in 1986 with Rotary International, is a community leadership organization made up of men and women from local businesses, professional, education, civic, and emerging leaders. Rotary International has over 35,000 member clubs worldwide, with a membership of over 1.2 million individuals, known as Rotarians. To learn more about RCSL projects, programs, and membership, see www.sunlakesrotary.com.