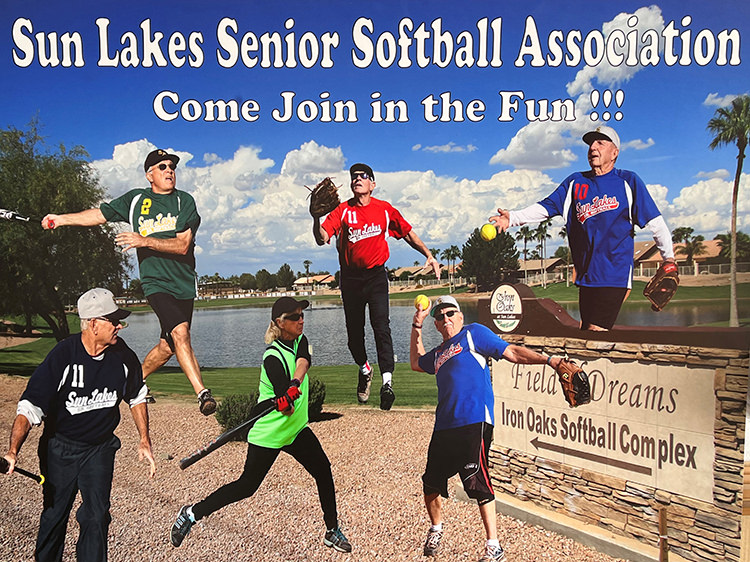 Larry Wolfe
It's not too late to join us for the upcoming Sun Lakes Senior Softball Fall Season, but time is getting very short. The registration deadline is Thursday, Oct. 12. Players will be drafted onto teams shortly thereafter. If you're new to our league, it is important that you attend practice sessions before the drafts are held. See our website, www.sunlakessoftball.com, for times and locations of our pre-season practices.
The Fall Season's opening day is scheduled for Tuesday, Oct. 24, and continues through Friday, Dec. 15. We anticipate having eight teams, with four teams in each of our two divisions. League play is on Tuesdays, Thursdays, and Fridays at the Field of Dreams. We also have recreational play, primarily batting and fielding practices, on Mondays, Wednesdays, and Saturdays.
We welcome our newest billboard advertising sponsor, Robson Reserve at Sun Lakes, formerly the Renaissance. Robson Reserve is a luxury senior living facility located at 9508 E. Riggs Road. See their website www.robsonseniorliving.com for additional information. Go to the Sponsors Page on our website to see how you can advertise your company or organization at the Field of Dreams.
We were saddened to learn of the passing of Pam Gloyd, wife of longtime player and team manager Mike Gloyd. Pam was an inspiration to all of us as she valiantly fought a long and difficult illness. She was a regular attendee at our games, even during her health struggles. Her smiling face and presence will be sorely missed. Our condolences to Mike and his family and Pam's many friends.