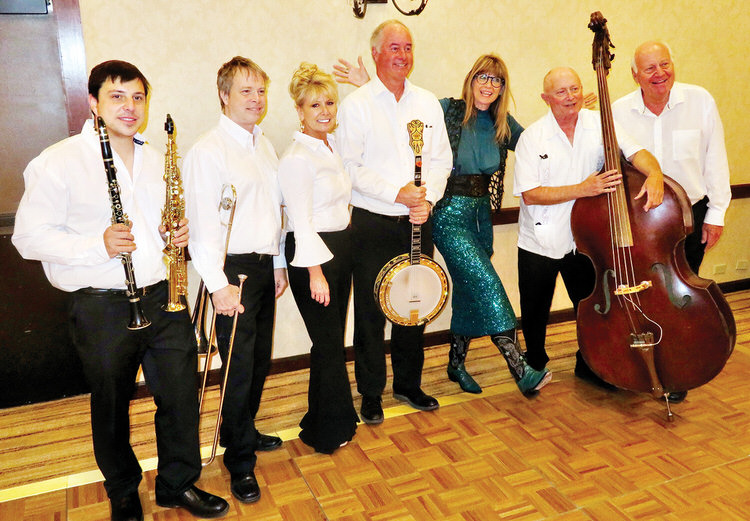 Helen Daley
Standard & Poor's is known as the S&P 500, which measures the value of the stocks of the 500 largest corporations by market capitalization listed on the New York Stock Exchange or Nasdaq Composite. Standards & Poor has a mission of presenting a mixture of fantastic musicians and showcasing them as a great band led by San Francisco native and multi-instrumentalist Evan Dain, who started at age six on the guitar, then picked up the bass, banjo, and mandolin in high school. They play a wide variety of music that is all danceable.
Evan studied music at Laney College in Oakland, Calif., and afterwards, served in the U.S. Navy. Learning trombone and tuba along the way, Evan launched a musical career that has encompassed traditional, modern, and Latin jazz, rock 'n' roll, bluegrass, pop, and country-western. Evan's eclectic experience has taken him to theatre, cruise ships, and numerous recording sessions around the world. He lived in New Orleans during 1990-91, met Banu Gibson there, and toured with her throughout the 1990s. He moved to Tucson in 1995 and, in addition to numerous other gigs, is a member of Wildcat Jazz Band.
Evan will be introducing our group to vocalist Chelsee Hicks for the first time. Chelsee is a member of the Manhattan Dolls who entertain in the style of The Andrews Sisters. She was born in Tucson, grew up in Kansas, returned to Arizona to graduate from the University of Arizona, and currently lives in Tucson.
Standards & Poor will perform at the April 24 jazz party for the Arizona Classic Jazz Society from 1 to 4 p.m. at the Crowne Plaza Phoenix – Chandler Golf Resort, One San Marcos Place, Chandler. The cost is $15 for Arizona Classic Jazz Society members and $20 for non-members (become a new member and get in free on the 24th; yearly membership $35 couple, single $25). Credit cards are not accepted at monthly events, so please bring cash or your checkbook. The public is welcome. For more information, go to www.azclassicjazz.org or call 480-620-3941.