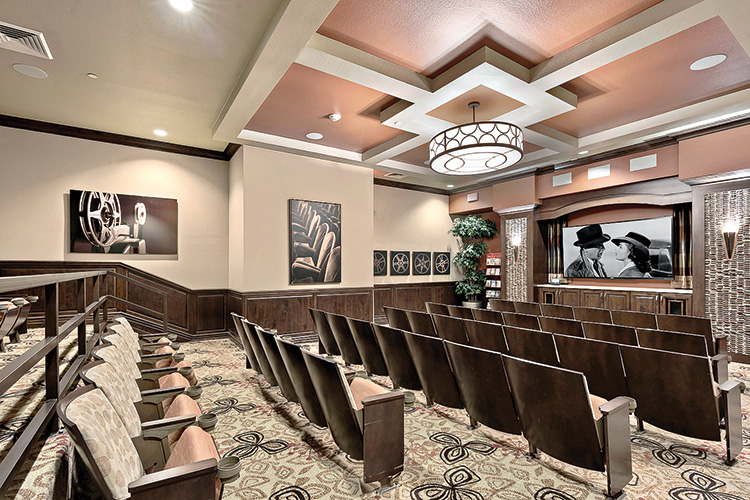 Jessica Dingman, Marketing Manager
At Renaissance, our goal is to foster a community of physical and mental well-being for our residents—today and every day. Even during times of social distancing, we are providing residents with opportunities to participate in engaging activities to stay connected.
Our incredible activities team has been adapting the activities schedule to ensure proper social distancing while still bringing joy to all of our residents. "We receive compliments daily from residents on our fun activities and hear how much they appreciate and enjoy being a Renaissance resident," said Beth Woolway, Activities Coordinator at Renaissance.
Independent Living Activities:
Movies—In our luxurious theater, we have been showing movies four times a day, offering snacks and beverages while keeping residents six feet apart from one another.
Wine Wednesday—One of our most popular activities, Wine Wednesday, is still going on but with a twist. Staff delivers drinks to the doors of residents along with a performer walking the halls to provide live entertainment.
Ice Cream Bar—Residents enjoy a tasty treat from our ice cream bar as it passes through the hallway and provides residents with a chance to say "hello" to neighbors from a distance.
Scavenger Hunts—Each week, residents can participate in a fun scavenger hunt to locate items in their apartment, outside, or within the community.
Cinco de Mayo—Social distancing didn't prevent our Cinco de Mayo celebration! Residents enjoyed live music from a mariachi band, margarita cart, and chips!
Assisted Living Activities:
Bingo—From the doorway of their apartment, residents participate in a game of community bingo, aiding in stimulation and socialization.
Daily Chronicle—Each day, we provide residents with a copy of the Daily Chronicle and include games and word search activities to help residents stay engaged.
Checking in more often—To ensure the safety and well-being of our residents, we have increased the frequency of checking in on residents which also allows for additional social interaction.
Our activities team has done a terrific job with adapting the activities schedule to ensure proper social distancing while bringing residents a bit of fun and joy each day. To learn more about our community, including the incredible activities offered at Renaissance, visit www.renaissanceretirement.com or call 480-883-2000.