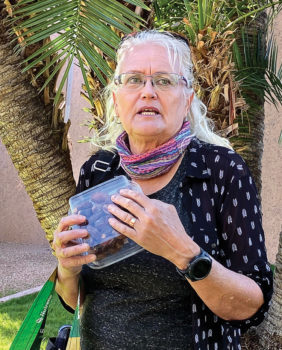 Starla Kramer
The Sun Lakes Garden Club meets all year on the third Tuesday of the month. Members are all staying connected through monthly Zoom computer meetings, virtual field trips, and a 10-page monthly newsletter with photos of members' gardens and activities. The May meeting was a videotaped private tour of Moon Valley Nursery by Joan Adam (club speaker coordinator) as she interviewed Brian Hedges, one of their lead landscape designers. The tour was filmed and replayed for members on a Zoom meeting, followed by Q&A live with Brian.
The June 16 meeting will feature Deborah Thirkhill, an ASU horticultural instructor. She has an extensive knowledge of trees and hosts the "Tour De Trees" at the ASU campus each spring for the public. Her topic this month will be "Grocery Store Gardening!"
Members have also enjoyed several video field trips during the "Stay At Home" period. One garden tour was of Cecilia's Garden, an organic farm in Mesa. Another virtual field trip was to a Hügelkultur garden in Ironwood, and two club members did video tours of their own Arizona native plant gardens.
Memberships are $20 per year, and a spouse or second member in the household is only $10 per year. We hope live meetings will resume soon at the Chapel Center (next door to the Sun Lakes All Faiths Community Church). It is at 9230 E. Sun Lakes Blvd. N., across the street from the Sun Lakes Country Club. Live meetings start at 9:30 a.m. with refreshments and socializing, and the Zoom meetings start at 10 a.m.
For more information or to join, go to SunLakesGardenClub.org or contact Starla Kramer at 480-540-8080.