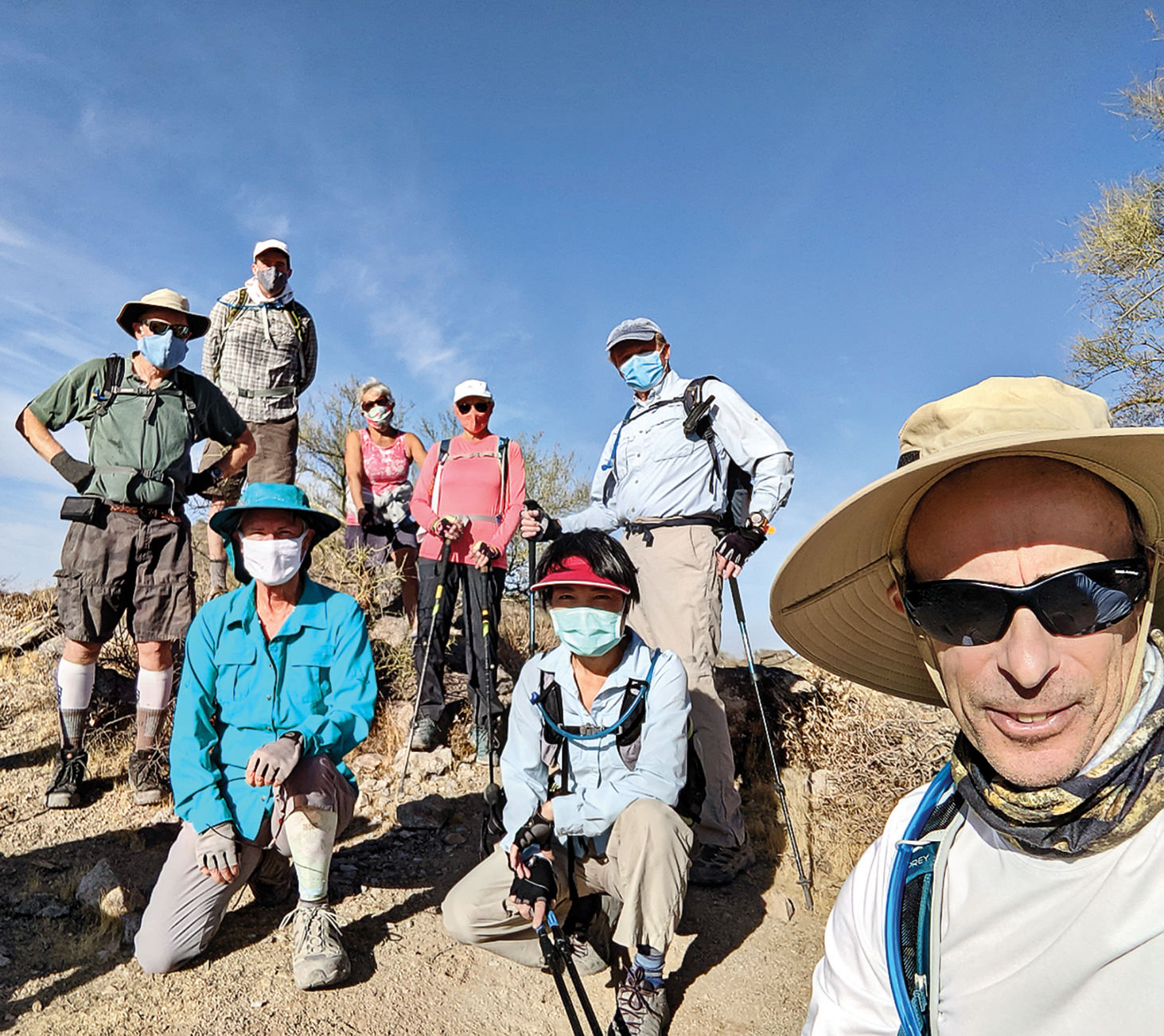 Warren Wasescha
With two months into the season, our Hiking Club is in full swing. While our numbers are down this year on our mellow-level hikes, the numbers on moderate- and motivated-level hikes are about the same or higher compared to prior years. COVID-19 protocols established by the club to keep us safe are in place and seem to be working well. What is encouraging is to see the number of other folks on the trails also wearing masks. Most hikers seem to get the seriousness of this pandemic.
The club is getting in a lot of good and interesting hikes this year, while staying a bit closer to home for shorter car times to the trails, due to the pandemic.
During a recent pre-hike on the Lost Goldmine Trail in the Superstitions, David Coffman and Rowland Kelly spotted several desert bighorn sheep. During a recent motivated hike led by Marilyn Harkins in the western half of South Mountain, we rediscovered a number of old mine shafts and learned about the history of mining on the mountain. Of course, the best thing about hiking is getting out in nature and seeing the beauty of the area beyond the gates of Sun Lakes.
All upcoming and past hikes can be viewed on our Meetup site by typing "Sun Lakes Hiking Club" into your web browser.
If you are interested in hiking with our group, we'd love to have you join us. We are a friendly, inclusive group of hikers welcoming all able-bodied hikers. Our goal is to make group hiking fun, challenging, and safe.
We hike from November through April on Mondays this year, at three intensity levels. Motivated hikes are more rigorous and are usually 7 to 10 miles in length with 1-2,000+ elevation gain. Moderate hikes are less strenuous and are in the 5 to 7-mile range and up to 1,000 elevation gain. Mellow hikes are led at a leisurely pace and are usually up to 5 miles and 500 elevation gain.
To join our club, we ask you to successfully complete two hikes at the mellow-level and get signed off by the hike leaders. After that, you can choose to hike at whatever level matches your abilities. Annual club dues are $5 with a one-time $6 initiation fee to cover the cost of a name badge.
For more information about our club, please contact our president DeEtte Faith at [email protected] or type in "Sun Lakes Hiking Club" into your web browser.