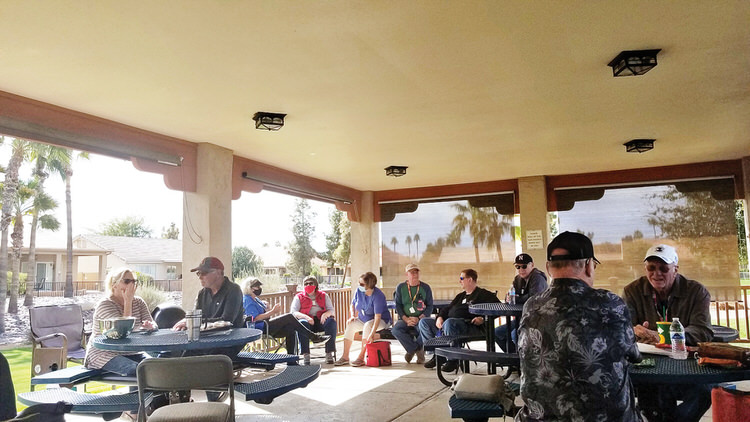 Cathie Smith, Secretary
The Roadrunners RV Club is all about fun, travel, new adventures, good food, and great friends! The group enjoys many opportunities to see new sights, go on organized tours, or explore on their own. Members like to dine out or cook at the campsite, learn from others, and share their own ideas and experiences.
Our February and March club meetings were well attended, with all really happy campers coming together at Sisk Park, Palo Verde, with fabulous Sun Lakes weather. We are so happy to have our April 13, 2021, meeting at Sisk Park, Palo Verde. This meeting will also include our long-awaited Spring Fling from 1 to 4 p.m., with games and a box lunch.
Our April rally will be held at Eagle View RV Park, Fort McDowell, on April 23 to 26. Lots of fun to be had here with campfires, local golf, casinos, and road trips to the lakes.
The Sun Lakes Roadrunners RV Club business meetings are normally held the second Tuesday of each month in October and November, and January through May. Meetings take place in the Navajo Room at the Sun Lakes Country Club. However, due to the COVID-19 restrictions, our meetings have been suspended there. We hope to resume normal meetings in the Fall of 2021.
For more information about the club and its activities, go to www.sunlakesroadrunner.com.
Prospective members and visitors are welcome. Come join the fun!