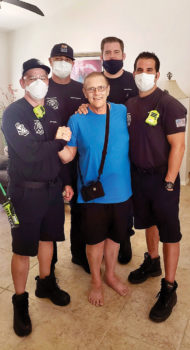 Brian Curry
Just after midnight, the crews of AFMA Engine 231 and Medic Unit 231 were finishing up on a call when they were notified by Phoenix Alarm of another medical call in the Oakwood community.
Seconds later, the dispatcher notified the responding units that the call was being upgraded to a "code" call, meaning the patient was in cardiac arrest.
As the engine and ambulance arrived on the scene, they observed Diane McMillan, the wife of the stricken patient, doing CPR (cardio-pulmonary resuscitation) on her husband Gary with the instruction of the alarm room dispatcher.
The crew consisting of paramedics and emergency medical technicians took over life saving actions for her husband by placing the patient on their Lucas compression device (this performs hydraulic CPR). The crew also administered medications and placed an advanced airway device to assist with breathing.
They quickly transported to Chandler Hospital where, en route, he was shocked with a defibrillator twice. As they neared the hospital, the patient began to become conscious and attempted to remove the airway.
As he was wheeled into the emergency room, he was fully awake and talking to the crew.
His wife, following the ambulance, was prepared for the worst and was met by Captain Mike Molite outside the door. "I'm ready for the worst. I know things were not good. Just tell me," she said. With a big smile, Captain Molite told her, "He's awake and talking. I'll take you in to see him."