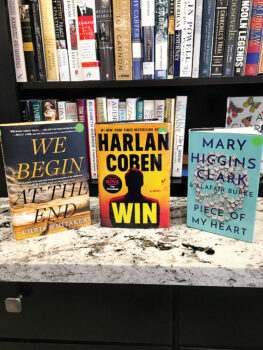 Bette Hargrave
Happy May Day, everyone!
As a child, this was the day Mother sent me to my neighborhood friends with homemade, paper baskets filled with candy. I was to knock on their door, leave the basket, and run home.
An older neighbor girl was waiting on my porch and held me from getting in so that the boy across the street could catch and kiss me. I was a five-year-old and had no idea kissing was involved. Ha ha!
My favorite author this month is David Baldacci, his first novel published in 1995, I believe. Mr. Baldacci started writing as a child, and his mother gave him a lined notebook to keep his stories in. Later, he wished to thank her, and she reportedly said she'd only wanted to keep him quiet!
I appreciate following characters when I'm reading, and Baldacci has several wonderful series.
The Camel Club books are 1-5 (in order): 1. The Camel Club, 2. The Collectors, 3. Stone Cold, 4. Divine Justice, and 5. Hell's Corner.
Will Robbie Series includes: 1. The Innocent, 2. The Hit, 3. The Target, 4. The Guilty, and 5. End Game.
Amos Decker/Memory Man Book Series is 1. Memory Man, 2. The Last Mile, 3. The Fix, 4. The Fallen, 5. Redemption, and 6. Walk the Wire.
Newly-purchased best sellers are:
We Begin at the End, by Chris Whitaker, a Guardian and Express best thriller of the year. I haven't read this, but because of good reviews, I plan to.
Win by Harlan Coben. This is what happens when a dead man's secrets fall into the hands of a vigilante anti-hero, drawing him down a dangerous road. I can't wait to read on with this one.
The Sanatorium by Sarah Pierce. This is a Reese's Book Club pick (that's Reese Witherspoon), and this is an eerie, atmospheric novel putting you on edge and unable to put it down. A good thriller!
In non-fiction, I wish to recommend Going Back to Bisbee by Richard Shelton. This book won the Western States Book Award for creative non-fiction. A really interesting book, and I may read it again!
Thank you for reading!