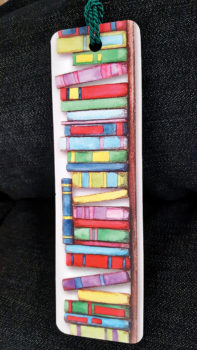 Bette Hargrave
Dear Readers, I hope you are all safe at home and reading!
Your library is open once again as of May 11, 2020, and we hope everyone will follow the rules and guidelines of our HOA. Masks and gloves are recommended in the library for patrons and librarians.
With the COVID-19 virus changing our lives, I have been staying in and reading more than ever.
Jenna Bush Hager's Book Club List has been a boon to me. As the leader of an ever-growing book club, Jenna feels responsible for also highlighting the works of lesser-known authors. Whether the books are best sellers or not, Jenna has a set criterion, and she says, "No matter what, you have to have a great, compulsively-readable plot. Something where you cannot wait to figure out what's going to happen and well written."
Listing a few good reads:
The May 2020 selection was All Adults Here, by Emma Straub. Jenna has said, "It's about how families can be messy and complicated and at the same time centered on love." I thought of my own family, and maybe that's why I enjoyed this read! LOL.
The April 2020 selection was Valentine, by Elizabeth Wetmore. This story is set in 1976 Odessa, Texas, and I felt it could even have been the 60s. The Odessa community is grappling with the aftermath of 14-year-old Gloria Ramirez's being viciously attacked in the early hours after Valentine's Day. Elizabeth Wetmore's debut novel explores the intersection of violence, race, class, and region through the eyes of her different characters' perspectives. She developed them so well, I felt I could travel there and find them today! It's been weeks since I read this book, and I still think about it!
Two books on my list to read are Here All Along, by Sarah Hurwitz, and In Praise of Paths: Walking Through Time and Nature, by Torbjorn Ekelund and translated to English by Becky L. Crook.
If you have read either of these works and would like to share your feelings or input regarding them, please contact me at my email, [email protected]
Thank you for reading, and I hope to see you at the library.