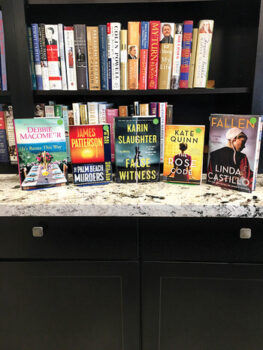 Bette Hargrave
Welcome to our SLCC Library and reading room!
April really brings the showers in other parts of the country—the blooms of spring follow. You may wish to travel to see the changes, but you may also see through your reading!
Our library is a popular place to unwind and get comfortable reading a book, or bring your computer to accomplish some quiet work, or just have a visit with your friends.
The new purchase list of books for March is 1) Shadows Creek (Large Print), by C.J. Box; 2) Peach Blossom Spring, by Melissa Fu; 3) Nothing to Lose (Large Print), by J.A. Jance; 4) Think of Me, by Frances Liardet; 5) The Lightning Rod (Large Print), A Zig and Nola Novel by Brad Meltzer; 6) Sisters of the Night and Fog, by Erika Robuck; 7) Invisible, by Danielle Steele; 8) The Three Mothers, by Anna Malaika Tubbs; and 9) Countdown, by Cris Wallace with Mitch Weiss.
There is a very nice variety of material to choose from. We hope you enjoy it!
Another suggestion, as I recently opened the cover of Fortune and Glory, by Janet Evanovich, I remembered my first times of reading this series with many chuckles and outright laughs! This is the 27th book in the Stephanie Plum Series.
Stephanie and Lula are in a tunnel under a mob joint, walking in mud with rats dropping on a shoulder and a fireball chasing them. Stephanie's mother and grandmother have reversed roles and, consequently, her mother is now the voice of mature reason, and Grandma Mazur is rebelliously throwing caution to the wind and dyeing her hair flame red!
A search for a life-changing fortune, a fight to protect Grandma Mazur, and Stephanie may finally be forced to choose between the important men in her life: Joe Morelli or Ranger!
Wishing you Happy Reading!