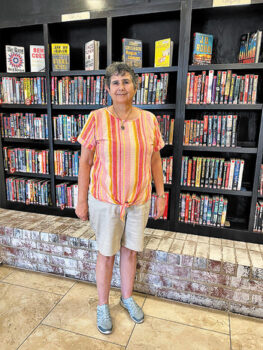 Jan Bobbett
There are several good thrillers on the market now, so our library purchased four thrillers, as well as four non-thrillers. Check our Best Sellers cabinet between 10 a.m. and 2 p.m. Monday through Saturday when a librarian can help you borrow one.
Let's start with what's been called "a tenderhearted love story." Laura Spence-Ash presents Beyond That, the Sea. It's the story of two families during World War II on opposite sides of the Atlantic. She tells the story from eight points of view from family members over nearly four decades.
Brad Taylor presents another thriller in the Pike Logan series. If you haven't tried a Brad Taylor thriller, you might want to explore the author himself. Briefly, he graduated from the University of Texas and served in the U.S. Army as a special forces officer. After 21 years, he retired as a Lt. Colonel with a master's degree in defense analysis and a concentration in irregular warfare. So, yes, his thrillers are action packed.
Martha Hall Kelly calls The Golden Doves a novel, though many would term it historical fiction. Either way, it's a story about Nazi fugitives after World War II focusing on the females who worked in resistance stealing Nazi secrets. Previously, fans bought over two million copies of her books, mostly for Lilac Girls.
Another thriller, Standing Dead, is by Margaret Mizushima. This is the eighth book of the award-winning Timber Creek K-9 Mysteries. This one involves traveling to Mexico to visit her mother.
Kate Morton shares Homecoming, a historical fiction mystery mostly set in Australia. The story starts on Christmas Eve of 1959 and leaps to 2018 with the discovery of a possible old murder. The small Australian town becomes mired in a shocking and perplexing murder case.
In the psychological thriller Simply Lies, David Baldacci presents a female character who leads a hectic life with the demands of her two small children, plus the demands of her job with a global investigation company. Her latest assignment puts everything in jeopardy.
John Sandford's Dark Angel is a crime-based thriller—his second book in the Letty Davenport series. Only 25 years old, Letty had an unconventional and violent childhood. Professionally, she developed firearm skills and learned techniques like infiltrating groups. Expect suspense and action.
Code Name Blue Wren, by Jim Poplin, tells the true story of Ana Montes, probably the most damaging female spy in U.S. history. Montes spent two decades supposedly working for the U.S. while committing espionage for the government of Cuba, undetected as a spy. Find out how.
Spotlight on Kim Randall
Kim is from Beaverton, Ore., and has been helping customers of our library since 2016. She always enjoys visiting with customers and getting to see books early. Kim reminded me that during the pandemic, our librarians had to keep books in shape and also worked hard to keep customers safe.
Kim's favorite genres involve action, including mysteries, adventure, and science fiction. She likes Ludlum, Baldacci, Ivanovich, and JD Robb.