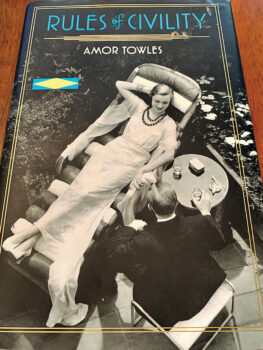 Violetta Armour
Happy New Year, Page-Turners!
The Rules of Civility begins on New Year's Eve, 1937, in New York City.
Twenty-five-year-old Katey Kontent and her boarding house roommate Eve begin their New Year's celebration at a Greenwich Village jazz bar, trying to stretch $3 between them with one martini an hour, planning to wind up at a Ukrainian diner at dawn with a 15-cent breakfast of coffee and eggs. Katey and Eve flirt with shameless savoir-faire, with no intention of seeing these men again.
But on that New Year's Eve, when an elegant moneyed banker named Tinker Grey walks into the jazz bar, it changes all their lives forever. Katey is immediately smitten, but Eve calls "Dibs" first. Although we follow this threesome throughout 1938, the story is Katey's as she rises from a Wall Street secretarial pool to the upper echelons of New York Society.
Katey, a bookworm, is the daughter of Russian immigrants from Brooklyn, and Eve, a blonde, corn-fed beauty, hails from Midwest Indiana. Katey has been compared to other notable characters in literature, such as Holly Golightly in Breakfast at Tiffany's and Nick Carraway in The Great Gatsby. Or think Mad Men, but in a more genteel and innocent fashion (the '30s, not the '60s).
There is no question the city itself plays a huge role in the story. It is a retro-era novel of manners, capturing Manhattan 1938 with lucid clarity and a silvery focus on the gin, the jazz, the nightclubs, and the streets.
One critic of the book says the plot relies too much on coincidences. After reading author Towles' bio, I could see where he believes in coincidence, as he personally, on his first night in the city many years ago, met two strangers—one who would become his brother-in-law and the other who would help him find a job he worked at for 20 years. A Yale- and Stanford-educated investment executive turned novelist (this is his debut novel), I was impressed that a mature male was able to define the world so clearly through the eyes of a 25-year-old girl trying to reinvent herself in the city.
We meet Katey again 30 years later, and a critical question resurfaces: "Are the behavioral rules that define civility simply a mask that people wear to conceal their true natures, or are the rules themselves important and the motivation for following them irrelevant?"
For a novel that seems to be full of glitz and glamour, it's a heady question, which brings us to the title: The appendix contains all 110 of George Washington's Rules of Civility from simple Emily Post etiquette, such as "Drink not nor talk with your mouth full" to the esoteric "Labour to keep alive in your breast that little spark of celestial fire called Conscience." Tinker's conscience is at the heart of his relationship with Katey and its outcome.
I loved spending a year and 335 pages with heroine Katey Kontent in the city. I hope you do, too. Happy Reading in 2021!
Reviewer Violetta Armour, a Sun Lakes resident, is a former bookstore owner in Ahwatukee. She has written four novels, including the award-winning I'll Always Be with You.
More book reviews are available on her blog at serendipity-reflections.blogspot.com.