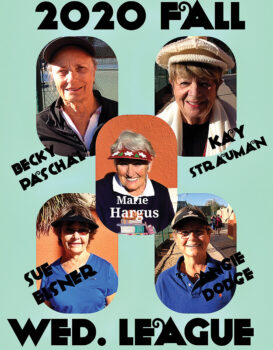 Penny Petersen
The 24 participants in the Wednesday league will be done by the time you read this, but even with COVID, they were all glad to get out of the house and play their favorite game.
League Director Marie Hargus donated many hours toward arranging the schedule, supervising the player draw, figuring out the weekly status of each team, and making the trophies for "Party Time." She enjoys her job as league director.
Unlike the Monday and Thursday leagues, the Wednesday league is sticking with the team approach, rather than individual scores. Each team had six players, plus a list of substitutes.
Besides tennis, Marie and her husband Roger (also a tennis player) have lots to do. They live in Sun Lakes year-round. They moved here in 2009, 11 years ago. Marie joined CTC shortly after arriving and has participated in many tournaments, has served as team captain, and is now the director of the Wednesday league.
Born in Sioux City, Iowa, Marie was raised in South Sioux City, Neb. She attended high school at Bishop Heelan High School in Sioux City, Iowa. She met Roger on the tennis court and also in the bridge room. She has two sons, Lou and Scott, and an extended family: twins Rodney and Roberta, Leanne, Linda, and Lisa.
Marie played tennis off and on for 30 years—mostly off, because she was a contractor for 30-plus years and designed integrated circuits for Intel, Hi-Tech, Infineon, Hewlett-Packard, RF Micro Devices, and Qualcomm. That took them from Iowa to California, Oregon, Florida, Texas, Colorado, and Massachusetts. While on the East Coast, they went to all the shows, attended the U.S. Open in New York, and toured all over the East Coast.
In addition to tennis, Marie enjoys golf, bridge, pickleball, and traveling. She and Roger have visited England, Scotland (they played golf there), Ireland (family), Switzerland (skied the Corvatsch), France (went to Roland Garros), Italy, Austria, Germany, and, of course, Canada, several times.
When asked to make a comment about moving to Sun Lakes, Marie said, "If you are not having fun here, then it's your own fault. Sun Lakes is the very best place to retire. There is so much to do and so little time."
If you are interested in meeting some of the other interesting people in Cottonwood Tennis Club, contact the membership chairman, Barb Jorgensen, at [email protected]