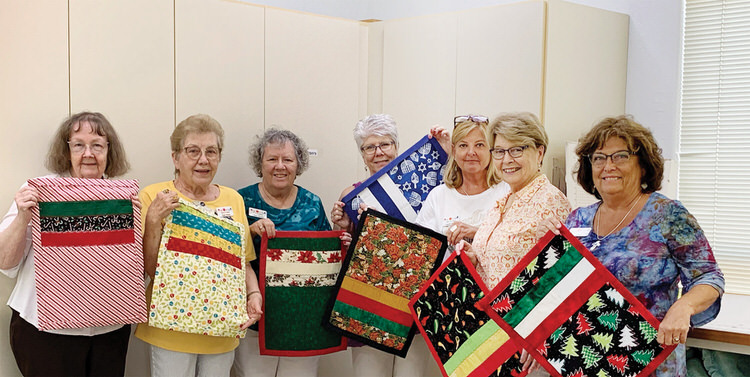 Phyllis Prysock
We look forward to getting together with all our sewing friends when we resume our monthly general meetings on Sept. 14 at 1 p.m. in the Navajo Room of Sun Lakes Country Club.
Many of us have done some cleaning out in our sewing studios, and we anticipate members will bring lots of treasures to be adopted by other members. The Stash table opens as soon as anyone brings items that are seeking a new home.
Our members have not been idle during the summer months. Our Pads4Paws group met each month on their regular meeting days, and completed over 100 pet beds for delivery to local animal shelters. Soon, we will be making the pet beds for the Veterans Stand Down in January.
We had a great deal of fun at our Christmas in July classes (and one in August). There were seven classes facilitated by a volunteer. We made a reindeer centerpiece, Christmas tree napkins, coasters, ornaments, a towel scarf, a rope bowl, and placemats. Everyone enjoyed our time together and had a nice project to take home. The classes were such a success that we plan to schedule some again next year.
We hope to see you on Sept. 14. Our business meeting starts at 1 p.m., and you are welcome to come early and join some of us for lunch at 11:30 a.m. Guests are welcome and may attend two meetings before joining. New membership is $25, which includes a name badge.
If you have any questions, please contact us at [email protected] or you may call Phyllis Prysock at 503-559-3405.