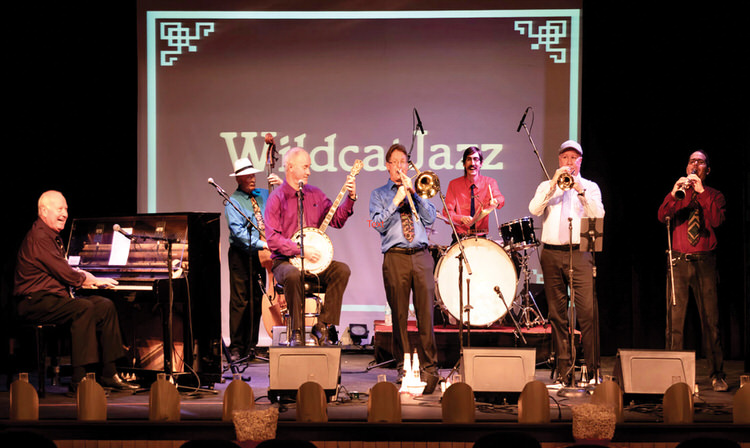 Helen Daley
The Wildcat Jazz Band has progressed from a band of six world-class musicians to a full, seven-piece traditional jazz band. There has been a little shakeup in the band. Drummer/pianist/vocalist Ray Templin had to drop out for a while due to health reasons. As luck would have it, drummer, composer, and bandleader Arthur Vint, who had moved from Tucson to New York City in 2007, returned to Tucson and was able to take over the throne (drum stool).
Arthur is known as a musical chameleon, because he feels comfortable playing many different styles of music. He is now a faculty member at the University of Arizona where he teaches jazz drum set and recording studio production.
Ray Templin has recently rejoined the band as pianist, the role he is best remembered for in the television series Matlock where he was known as the owner of Templin's Piano Bar. He has played and recorded with many artists and is known as one of the top stride pianists playing today. Ray also does voiceovers in his spare time.
The band is rounded out by leader/banjoist/guitarist/vocalist Rob Wright, Rob Boone on trombone, Evan Dain on bass and vocals, Rick Peron on trumpet, and Marco Rosano on reeds.
On Sunday, Jan. 23, the Wildcat Jazz Band will be performing at the Arizona Classic Jazz Society's monthly event at the Crowne Plaza Phoenix – Chandler Golf Resort, One San Marcos Place, Downtown Chandler. The cost is $15 for Arizona Classic Jazz Society members; $20 non-members (become a new member on the 23rd and get in free; yearly membership $35 couple, single $25). There will be two dance floors and seating with spacing to meet everybody's wishes, with the choice of table or theater seating. Masks, gloves, and hand sanitizer will be available. For more information, go to www.azclassicjazz.org or call 480-620-3941.