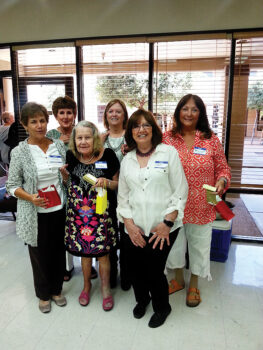 Deborah Goodacre
Not only is the weather changing, but it seems the whole dynamic of my neighborhood is changing. People are selling their homes and leaving for parts unknown or returning to their home states for the cooler summer months. For those of us still here, rest assured the members of Daughters of The American Revolution (DAR) will be busy little beavers. By the time you read this article, we will have had our last meeting, April 17. Then we take a break until September. This meeting is our Spring Fling; a fun get-together where we conduct our usual agenda of reports and announcements and a silent auction, as we continue to raise money to support our charities and service organizations. Our Regent, Nancy Cooney, has invited several veterans to be with us from the Korean and Vietnam Wars.
This month, we have two new members to induct into DAR, Gila Butte Chapter. First is Jean Culver whose patriot is Prince Alden from Connecticut. Jean is a descendant of John Alden, the famous Mayflower passenger. Second is Jean Milberger whose patriot is John Baxter from the State of New York. Jean's mother was a member, so she received Legacy status with the DAR. Congratulations to both women.
Next, we have a passel of awards to present, overdue, thanks to the COVID bug. Note: The ASDAR awards are state awards, and the NSDAR awards are national awards. Let us give a round of applause to all our winners. Receiving a national award is a great honor and accomplishment. Here is the list:
* Certificate from NSDAR in recognition of presenting Medal of Honor to Arlan Allen
* State award to Gila Butte Chapter for Outstanding Electronic Coverage 2020
* State award to Gila Butte Chapter for Meritorious Print Coverage 2020
* ASDAR certificate to Gila Butte Chapter for Outstanding Contributions to Conservation Initiatives 2020
* ASDAR certificate to Gila Butte Chapter for Recognition of Proofing the NSDAR Initiative "No Straw in September" 2020
* NSDAR certificate for Gila Butte Chapter Daughters Newsletter Ad by DAR Magazine Committee 2020
* NSDAR American Heritage Committee award to Patricia O'Neill, Third Place for Fiber Arts, Suffragette Quilt Top 2020
* ASDAR Award for First Place in Fiber Arts to Patricia O'Neill for Suffragette Quilt
* NSDAR American Heritage Committee Award to Deborah Goodacre, Third Place for Literature, Drama/Fiction 2020. "The 19th Amendment or How A Revolution Healed My Momma's Heart"
* ASDAR Award for First Place in Literature, Drama/Fiction 2020 to Deborah Goodacre (the same story)
During the summer months, I will be writing future articles for the Splash to include interviews with some of our colorful members, and stories about women patriots whose might, guts, and valor was so important to the establishment of our democracy. This summer will be busy for all our DAR members. I once again encourage you to dig into your heritage and family backgrounds for hints and clues to their participation in the establishment of our great country. For more information, contact Pennie Bonnett at 602-418-8908 or pbonnett@cox.net.