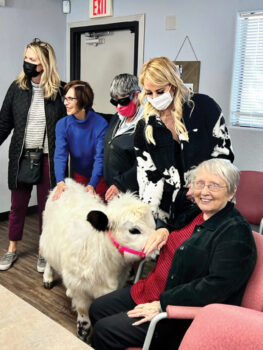 Rose Saunders
Club members at The Perfect Place of Oakwood Creative Care recently were visited by someone very special. Miss Dolly Star, a micro-mini American white heifer, stopped in for a quick visit. Members were able to stroke her soft, white hair and feed her mini marshmallows as a treat. Everyone enjoyed interacting with the 225-pound mini cow.
Dolly is believed to be the first therapy cow in the country. Karin Boyd, her owner, heard about bovine therapy when her father suffered memory loss following heart surgery. He had been a dairy farmer in the past, and she thought he would connect with the mini cow.
The Perfect Place, located on South Alma School Road, provides social and recreational activities for individuals with cognitive impairment. Its mission is to create a fun, supportive, and engaging environment for seniors with illnesses like dementia, Parkinson's, and Alzheimer's. Short term memory is often lost during dementia. Sometimes a recent experience will connect with a long-term memory and spark joy in a person. Some club members had grown up near dairy farms, and Dolly's visit ignited pleasant memories for these individuals. Others just enjoyed stroking her soft hair and giving her hugs.
Although The Perfect Place has been around for over 20 years serving the communities of Sun Lakes and Chandler, it recently merged with Oakwood Creative Care, another non-profit organization. This partnership has provided additional resources to The Perfect Place. We are now open five days a week from 10 a.m. to 4 p.m. These additional hours give longer respite time to family members who provide care 24/7.
You can find out more about The Perfect Place by calling 480-895-2892 or visiting our website tinyurl.com/yckpwx9k.